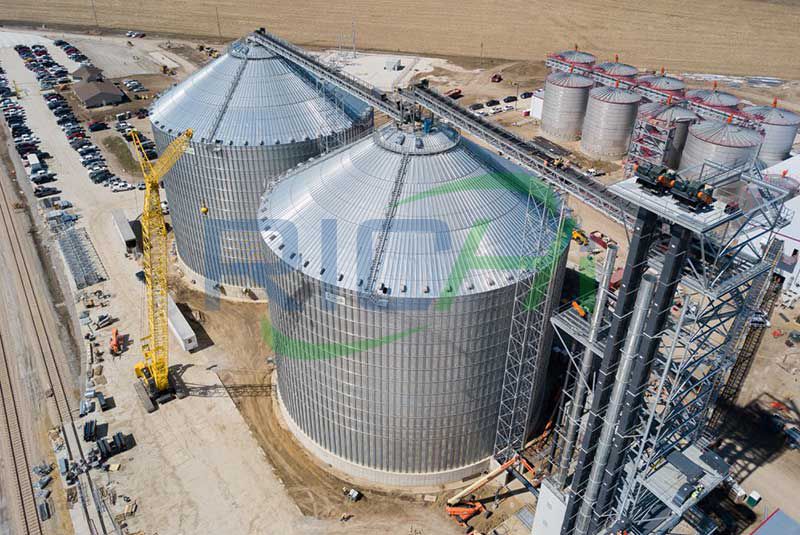 Large capacity steel silo
---
Brand: Richi Machinery
Capacity: 300-10000t/h
Certification: CE & SGS & ISO
Silo Bottom: Flat or Tapered
E-mail:
sales@cnrichi.cn

Product Description

---
Grain silo, in another name is paddy storage silo or steel grain storage silos, which is used for farm purpose, rice mill, flour mill, soybean-oil mill, animal feed mill plant, brewery plant and so on, the corn maize steel grain storage silo can be used to store grain (such as corn, maize, bulk wheat, corn, rice, paddy, sorghum, soya etc.), animal feed, cereal seeds, plastic pellet, wooden pellet etc.
Large capacity steel silo Details

Our grain silo size start from 10tons to 15000ton, with compatible auxiliary systems of grain receipt, cleaning, drying, lifting, conveyor, grain condition monitoring system, unloading etc.
Features
1. Large capacity
One single steel Grain silo capacity is up to 10,000 tons with comprehensive configurations to meet customers' different requirements.
2. High accuracy
Complete advanced processing equipment and technology are introduced from USA to effectively ensure working accuracy and reduce damage to galvanized layer.
3. Less residues
External installable stiffeners contribute to less grain residues on steel Grain silo walls.
4. Detachable and movable
With standardized and modularized production, components and parts have a high standardization and good interchangeability, thus can be partially replaced or completely transferred.
5. Hopper bottom silos in capacities from 10 tonnes to 2,000 tonnes
6. Flat bottom silos can reach the capacity of 10000 tons
Bottom show
Introduction of flat bottom steel silo's structure:
1. Silo body : the silo wall sheets are corrugated that is made of high quality galvanizing board; the sheets are bolted together by common or high strengthen bolts .The thickness of silo wall is designed according to the strengthen theory ,which makes the whole wall can afford even swelling tension. The handle equipment can make it more convenient to maintenance and unloading , such as silo doors, interior and exterior ladder and protecting net.
2. Radial beam silo roof support system : the roof is made of galvanizing board that is 0.8mm thick, and bolts are with galvanizing die .There are special equipments on the silo roof such as natural vents, manhole, roof ladders and secure cages and so on .
3. The main parts of the silo bin and roof are made of galvanizing board or spares which can make silo become even more steady and durable with longer life time, which is good to realize automatic work.
Advantages:
1. Lower cost, just 35%-50% of the cement silo cost with lightweight than cement warehouse, which can remove it for re-use. And its life span can up to 30 years.
2. Easy and quick install with short construction period, assembly silo saving time cost.
3. Standardization. The assembly silo is equipped with relevant accessories, such as conveyor, ventilation and monitoring devices, etc. to ensure the supporting facility's smooth operate and maintain easier for its standarddization.
Parameter

---
| | | |
| --- | --- | --- |
| Bottom shape | Hopper Type | Flat Bottom Type |
| Capacity | ≤1500t | ≥1500t |
| Design view | Heavy structural "wide-flanged" columns; Columns designed "X" bracing; Pressure bearing is higher than the national standard, and safe enough. | Can be built by hopper concrete or flat cement based on your requirement and actual demand. |
| Silo Discharge | Hopper is with Rigorous Full Load Safety Calculation; BODA has 0 Silo Hopper Accidents and 0 Silo Accidents; Can be made by concrete or steel | There will be one or more discharge holes on the bottom based on different materials and capacity. |
| Sweeper | Normally no need sweeper for hopper bottom silo except for high viscidity materials | Clean up residual easier; China Famous Brand or France Brand |
SEND INQUIRY
Here you can submit any questions and we will get back to you as soon as possible. We will not disclose the information you submit to anyone, please rest assured.
Copyright© 2021 Richi Machinery. All rights reserved. Site Map