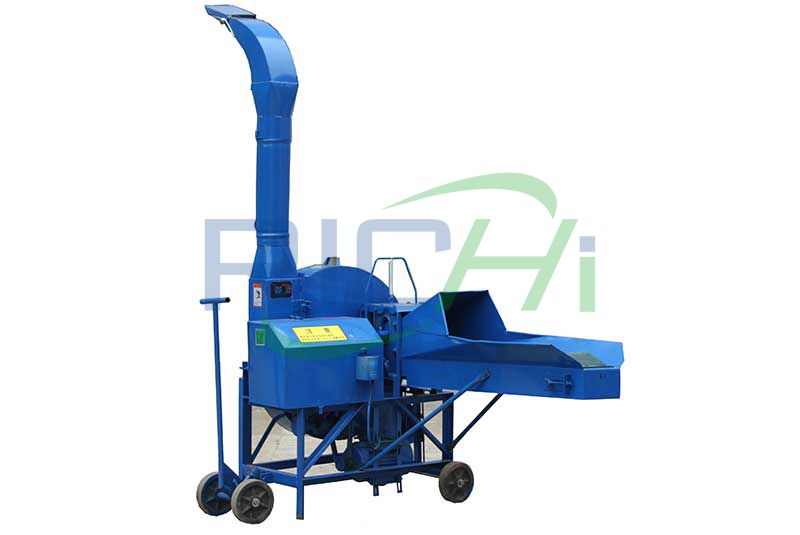 Small chaff Cutter Machine
---
Power Motor: 2.2-25kw
Capacity: 0.4-20t/h
Certification: CE & SGS & ISO
Application: widely used for cutting fresh (dry) grass, fresh (dry) corn straw, wheat straw, rice straw, stalks, other crops straw and etc.
E-mail:
sales@cnrichi.cn

Product Description

---
Our Hay Cutter is widely used for cutting fresh (dry) grass, fresh (dry) corn straw, wheat straw, rice straw, stalks, other crops straw and etc. The front materials processed in our Hay Cutter could be used in breeding cattle, sheep, deer, horses, rabbit, etc.. What is more, the processing of cotton stalks, twigs, bark, alsl could be used in straw power generation, extraction of ethanol, making paper, plywood and other industries.
Small chaff Cutter Machine Details

Some of the most common materials could be processed in our Hay Cutter include: Fresh (Dry) Grass, Fresh (Dry) Corn Straw, Wheat Straw, Rice Straw, Cotton Stalks, Soybean Straw, Sorghum Stalks, Branches, Forage Crops and etc.
Features
1.straw chaffcutter for animals,papermaking etc
2.cut wet or dry corn straw,wheat straw,hay etc
3.cut various lengths between 10m-50mm
4.it is suitable for home use, small and middle size farm
5.save labor and time
6.straw hay cutter is suitable for cutting all kinds of green grass, hay, tobacco, wheat straw, etc.Various kinds of forage grass or medicine.
7.Can be driven by motor, diesel engine or tractor PTO, especially suitable for areas where lack of electric power;
8.Discharging size can be adjusted;
9.Very easy operation;
Technical characteristics
1.Our Hay Cutter knives are made of 65Mn steel, which are very durable; High-strength bolts are used for connection to provide safe and reliable operation;
2.Steel frame structure, small volume, light weight, convenient to move;
3.Unique adjustable speed gear box structure, easy and precise adjustment of grass length, reliable sealing, good lubrication;
4.Advanced feeding and conveying mechanism is controlled by a switch, easy to switch;
5.Hay Cutter is equipped with a safety device to prevent blade jamming, thus ensuring safety and reliability.
6.Universal coupling is used as the grass roller transmission shaft to provide compact structure, flexible operation and convenient disassembly;
The Working Principle of chaff cutter machine
1.straw crusher machine by motor as a supporting power. Will power transfer to the spindle, the other end of the main shaft gear through the gear box, universal joint, etc will pass the speed to transfer the power of the pressure, and when to grass materials and processing in pressure between grass pressure was holding and certain speed into cut institutions, the high speed rotating tool cut up by the grass turned out the mouth.
2.straw crusher machine is a used for processing forage grass, cut green, dry corn straw, straw and the straw returned silage grass machine.
Its components are as follows:
1. feeding mechanism: mainly consists of feeding platform, up and down cao, fixed blade and fixed knife support base.
Ensilage machine
2. guillotine throwing mechanism: mainly consists of dynamic knife, cutter plate, locking screw and so on.
3. transmission mechanism: mainly composed of triangle belt, transmission shaft, gear, universal joint, etc.
4. walking mechanism: mainly consists of ground casters.
5. protective device: consists of a protective cover.
Parameter

---
Model
Power ofmain motor
(kw)
Capacity(t/h)
Rotating speed(r/min)
Number of cutter(pcs)
Dimension(mm)
weight(KG)
9Z-0.5
2.2
0.4-1
1000
4
950*820*1300
100
9Z-1.2
2.2-3
1-2
950
6
1040*940*1640
150
9Z-1.8
3.0
1.5-2.5
850
6
1000*1095*1700
200
9Z-3.0
4.0
1.6-3
800
6
1230*1150*1700
350
9Z-4.5
12-15
>4.5
800
3/4
1737*1575*2315
500
9Z-6.5
15-20
>6.5
650
3/4
2147*1600*2756
1180
9Z-10
25
>10
500
3/4
2650*1900*1870

1230
SEND INQUIRY
Here you can submit any questions and we will get back to you as soon as possible. We will not disclose the information you submit to anyone, please rest assured.
Copyright© 2021 Richi Machinery. All rights reserved. Site Map