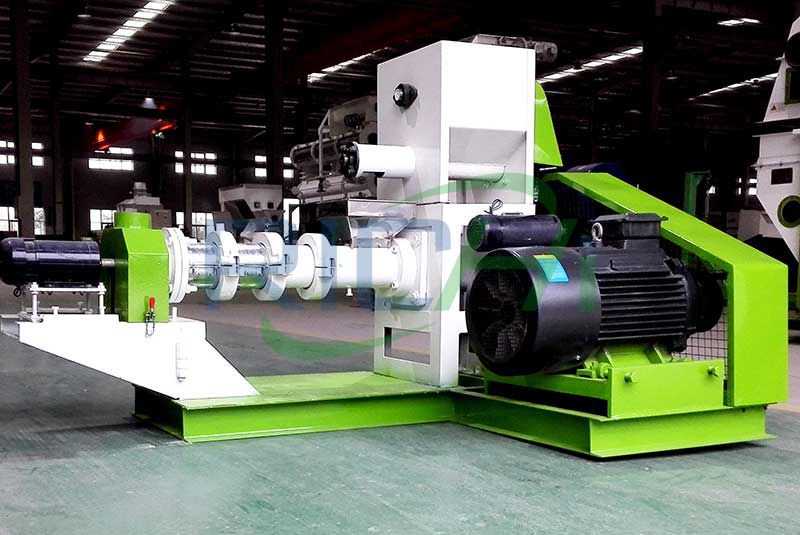 DGP Dry Type Fish Feed Extruder
---
Model: DGP Series
Capacity: 300kg/h - 2t/h
Certification: CE & SGS & ISO
Application: Sinking fish food, floating fish food, shrimp food, crab food Industry
E-mail:
sales@cnrichi.cn

Product Description

---
DGP Series dry type fish feed extruder for floating fish feed pellet production is adopted to process various kinds of grains into high-grade aquatic feed pellets for fish, catfish, shrimps, crab, etc. Final pellets produced by fish feed extruder have a unique shape, good taste and balanced nutrition. It is the ideal device for small and medium size feed processing plants and aqua-farms.
DGP Series dry typefish feed extruder for floating fish feed pellet production, the pellet diameter can be varied. the fish feed pellet machine can produce many kinds of fodder for different kinds of animals. It can make poultry fodder, pet-fodder,as well as aquaculture fodder and fishery feed.the fish feed pellet machine is applied to the pretreatment of the many kinds of fishes feed,so as to reduce loss of nutrition, advance the protein ratio.
DGP Dry Type Fish Feed Extruder Details

The fish feed extruder machine is used to make the pellet from the grain,the soybean,the cereal,or other materials.The pellet floats on the water at least about 12 hours.Especially for aquaculture industry such as the fish,the shrimptortoise,and other aquatic product.
Features
1.This kind of fish feed extruder machine owns simple structure, wide application, and low noise.
2.It can improve the quality and floating time of the fish feed pellets.
3.Salmonellosis and bacterial infections of the raw materials will be eliminated after being processed by the high temperature and pressure.
4.We offer different die molds to meet the various needs of the diameters of feed pellets.
5.The high-quality steel is adopted to guarantee the long service life of the extruder.
6.The jacketed construction of the extruder is adopted to control the extruding temperature by adding the materials with hot steam or cooling water.
7.The fish feed pellets are more economical than the compound powder feed.
Working Principle
1. During extruding process, material feed from the end of machine cavity convey to the whole cavity by screw, then divided into several regions at extruded part, each region have a ring (press ring. to control flow and press. Screw convey function drive the material through the gap between the press ring and cavity, screw rotating motion generate energy with the friction between material and extruder partsistransformedintothermalenergy.
2. In most cases, the material rich with starch and protein is cooked into a sticky dough or gelatinous dough. During the transform process, the material have a large physical and chemical changes, mainly is the results of starch and protein changes.
3. Whenthematerial isextruded throughmoldingholesattheend ofmachinecavity, make the dough material processed into a certain shape. Due to the large of propulsive force of screw inside cavity, the material have a huge pressure, when material is extruded from the molding holes, it instantly vaporized a large quantitiesmoisture,greatlyreducethematerialmoisturecontent.
4. When produce low density products, it would have a large expansion depends on the molecular structure of material, and all condition and material used during extrudingprocess.
5. When produce high density products, it would not expansion largedepends on the purging pressure port on the cavity and all condition and material used during extrudingprocess.
Difference between feed pellet machine and feed extruder
The feed pellet machine simply compresses the material into pellets by extrusion, which is also called a pelletizer. The maturity of the material is very low. The extruder uses the screw to cut, compress, and knead the material to fully mature, and then the screw compression ratio and length to diameter ratio to expand the material after granulation. The maturity of the extruded material is very high, which is good for digestion and absorption. In popular terms, the extruder makes floating feed, so it is generally called a fish feed extruder, and the pellet machine includes all feed equipment (including sinking feed).
1.Different properties
Feed pellet machine: Feed pellet machine (also known as pellet feed mill, granulator), which belongs to feed pellet equipment. It is a feed processing machine that uses corn, soybean meal, straw, grass, rice husks, etc. as raw materials and directly crushes the raw materials into granules.
Feed puffing machine: Feed puffing machine is a type of puffing machine, mainly used for food puffing, livestock and poultry feed, or for puffing single raw materials. It can also be used as a raw material for vegetable oil and drinking wine production.
2. Different scope of application
Feed pellet machine: Feed pellet machine, widely used in large, medium and small aquaculture, grain feed processing plants, livestock farms, poultry farms, individual farmers and small and medium-sized farms, farmers or large, medium and small feed processing Factory use.
Feed extruder: This series of dry and wet extruder is suitable for large, medium and small breeding farms, feed factories and food factories.
3.Different functional characteristics
Feed pellet machine: simple structure, wide adaptability, small footprint, low noise. The powdery feed and grass powder can be granulated without the addition of a little liquid, so the moisture content of the pelleted feed is basically the moisture content of the material before granulation, which is more conducive to storage.
Feed extruder: new model design, compact structure and high production efficiency. Reliable work, sturdy and durable, low failure rate, easy operation and maintenance. Simple and convenient to use, smooth transmission and low noise.
Parameter

---
| | | | | | |
| --- | --- | --- | --- | --- | --- |
| Model | Capacity(t/h) | Main motor power(kw) | Feeder power(kw) | Screw diameter(mm) | Cutter power(kw) |
| DGP40-Cs | 0.03-0.04 | 3.0*2 | 0.4 | Φ40 | 0.4 |
| DGP40-C | 0.03-0.04 | 5.5 | 0.4 | Φ40 | 0.4 |
| DGP50-C | 0.06-0.08 | 11 | 0.4 | Φ50 | 0.4 |
| DGP60-C | 0.12-0.15 | 15 | 0.4 | φ60 | 0.4 |
| DGP70-B | 0.18-0.2 | 18.5 | 0.4 | φ70 | 0.4 |
| DGP80-B | 0.2-0.25 | 22 | 0.4 | φ80 | 0.6 |
| DGP90-B | 0.30-0.35 | 37 | 0.6 | φ90 | 0.8 |
| DGP120-B | 0.5-0.6 | 55 | 1.1 | φ120 | 2.2 |
| DGP135-B | 0.7-0.8 | 75 | 1.1 | φ133 | 2.2 |
| DGP160-B | 1-1.2 | 90 | 1.5 | φ155 | 3 |
| DGP200-B | 1.8-2.0 | 132 | 1.5 | φ195 | 3.0-4.0 |
SEND INQUIRY
Here you can submit any questions and we will get back to you as soon as possible. We will not disclose the information you submit to anyone, please rest assured.
Copyright© 2021 Richi Machinery. All rights reserved. Site Map