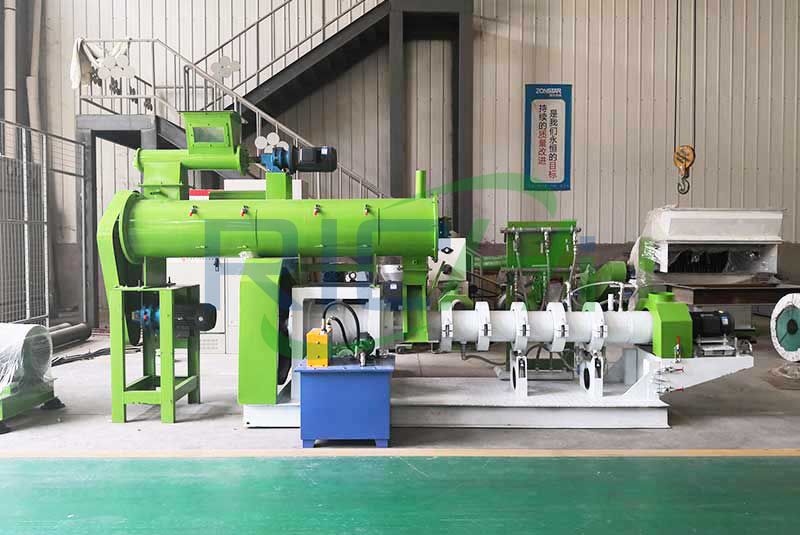 DSP Wet Type Fish Feed Extruder
---
Model: DSP Series
Capacity: 0.18-4t/h
Certification: CE & SGS & ISO
Application: Sinking fish food, floating fish food, shrimp food, crab food Industry
E-mail:
enquiry@pellet-richi.com

Product Description

---
DSP Series Wet Type Fish Feed Extruder, The spare parts like screw, barrel of wet type will be less damaged than dry type.The feed pellet is more smooth, with better quality and easy to digest.High temperature and high pressure processes can kill the salmonella and bacterial infections.
Application of Wet Fish Feed Extruder
Pellet size: 1-12mm, mini pallet size 0.9mm
Produce floating fish feed, slow-sinking fish feed
Using different molds, can also produce pet food, like dog, cat food and also animal poultry feeds
The wet extruder is used for extrusion of full fat soybean, corn, piglet, soybean meal, cotton seed meal, rice bran etc. It can modify quality of raw materials and increase digestibility
DSP Wet Type Fish Feed Extruder Details

DSP Series Wet Type Fish Feed Extruder for Sinking Fish Feed Pellet Production.You can change different molds to make pellets with different diameters. Fish feed pellets can float on the water surface without dissolution for over 12 hours. The fish feed pellet size can be from 0.9-12mm.
Features
1.With different moulds, the floating fish feed pellet mill for sale can meet different stage fish. The food can be floating 24hours.
2.the floating fish feed pellet machine for sale can produce different shapes feed for fish, dog, cat etc.Through the pretreatment of the feed, it can reduce loss of nutrition and advance the protein ratio. So the feed will be digested easily by animals.
3.the floating fish feed production machine has high efficiency, low power consumption.
4.Screw sleeve of this small fish feed production machine adopts enchase alloy steel strip structure, which guarantees long service life.
5.Different moulds can be chosen to make pellets with different diameters and shapes.
6.final feed pellets produced by the fish feed production machine dia. Is 2-12mm.
Working Principle
1. During extruding process, material feed from the end of machine cavity convey to the whole cavity by screw, then divided into several regions at extruded part, each region have a ring (press ring. to control flow and press. Screw convey function drive the material through the gap between the press ring and cavity, screw rotating motion generate energy with the friction between material and extruder partsistransformedintothermalenergy.
2. In most cases, the material rich with starch and protein is cooked into a sticky dough or gelatinous dough. During the transform process, the material have a large physical and chemical changes, mainly is the results of starch and protein changes.
3. Whenthematerial isextruded throughmoldingholesattheend ofmachinecavity, make the dough material processed into a certain shape. Due to the large of propulsive force of screw inside cavity, the material have a huge pressure, when material is extruded from the molding holes, it instantly vaporized a large quantitiesmoisture,greatlyreducethematerialmoisturecontent.
4. When produce low density products, it would have a large expansion depends on the molecular structure of material, and all condition and material used during extrudingprocess.
5. When produce high density products, it would not expansion largedepends on the purging pressure port on the cavity and all condition and material used during extrudingprocess.
Why Choose Extruder for Aquatic Feed Production?
The production of feeds for aquaculture has several challenges: the feed must be water stable, have high conversion rates while ensuring a low ecological impact. For these reasons extrusion technology is the best choice for the production of aquaculture feeds. Then what is extrusion? Feed at environment of high temperature (110-200 °C) and high pressure (25 to l00kg/cm2) and high shear force, high moisture (10% 20% or even 30%), through continuous mixing, conditioning, heating, pressure, curing, extrusion die and sudden depressurization formed a bulk porous feed pellets.
Difference between Dry Type and Wet Type Extruder
1. The capacity of wet type is higher than dry type. To take 15kw pellet mill as example, the capacity for dry type is 120-150kg/hour, but the capacity for wet type is 180-200kg/hour.
2. The price of wet type is higher than dry type.
3. For the difference of digestibility, they are almost same. The surface of pellets made by wet type looks a little better than dry type, but not a big difference.
4. Wet type floating fish feed pellet mill is equipped with conditioner. It also need a boiler to work with the conditioner. There are no need of conditioner and boiler for dry type machine. No matter for the wet type and dry type pellet mill, both of them can make 0.9mm to 10mm pellets.
Parameter

---
| | | | | | | |
| --- | --- | --- | --- | --- | --- | --- |
| Model | Capacity(t/h) | Main motor power(kw) | Feeder power(kw) | Screw diameter(mm) | Cutter power(kw) | Conditioner power(kw) |
| DSP60-B | 0.18-0.2 | 15 | 0.4 | Φ60 | 0.4 | 0.75 |
| DSP70-B | 0.25-0.30 | 18.5 | 0.6 | Φ70 | 0.6 | 0.75 |
| DSP80-B | 0.35-0.40 | 22 | 1.1 | Φ80 | 0.8 | 1.1-1.5 |
| DSP90-B | 0.50-0.60 | 37 | 1.1 | Φ90 | 1.1 | 2.2 |
| DSP120-B | 0.70-0.80 | 55 | 1.1 | Φ120 | 1.5 | 2.2-3.0 |
| DSP135-B | 1.0-1.2 | 75 | 1.5 | Φ135 | 2.2 | 3.0-4.0 |
| DSP160-B | 1.8-2.0 | 90 | 2.2 | Φ155 | 2.2-3.0 | 4.0-5.5 |
| DSP200-B | 3.0-4.0 | 132 | 2.2 | Φ195 | 3.0-4.0 | 5.5 |
| DSP200-B | 3.0-4.0 | 132 | 2.2 | Φ195 | 3.0-4.0 | 5.5 |
SEND INQUIRY
Here you can submit any questions and we will get back to you as soon as possible. We will not disclose the information you submit to anyone, please rest assured.
Copyright© 2022 Richi Machinery. All rights reserved. Site Map