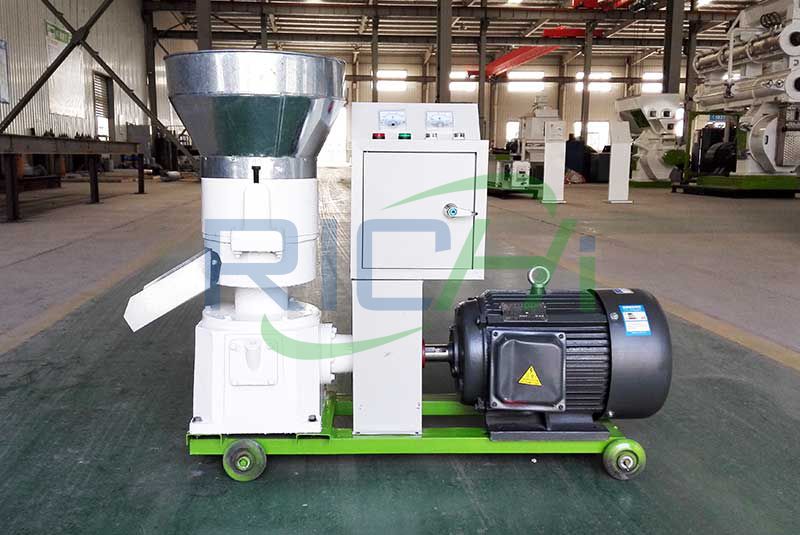 Small Feed Pellet Mill Export
---
Model: FDF
Capacity: 80-1200 kg/h
Certification: CE & SGS & ISO
Application: for making small scale feed pellets for pig, rabbit, cattle, chicken, sheep, etc.
E-mail:
sales@cnrichi.cn

Product Description

---
Today livestock and Ruminant feed pellets are becoming more and more popular in the breeding industry for being rich in nutrition, good palatability and easy storage. Our Mini home flat die feed pellet mill is your inevitable choice for making your own feed pellets. This small electric feed pellet mill is very flexible, convenient to move and operate. What is more important, in the long run, the feed pelletizer price is more cost-effective than buying feed pellets, so it is especially favored by small farm holders and poultry breeders. For daily feed pellets production with small quantity, usually a feed pellet mill is enough, because you can grind the materials with any grinding machine that is available to you; after the pellets are discharged from a feed pelletizer, you can cool them in the sun and then store them in a container. While if the production is relatively larger and a little troublesome only depending on labor force, you can consider buying the auxiliary machines like feed hammer mill, etc to save time and labor.
Small Feed Pellet Mill Export Details

This small-scale feed pellet mill adopts flat die structure. The main components are electric motor, gearbox, drive shaft, flat die, roller, feed hopper, slicer and outlet.
Features
1. Less investment, simple operation, easy maintenance, high pelleting rate; Simple structure, wide applicability, cover small space, low noise;
2. Powder feed, no grass meal (or little) liquid can be added for granulation.Moisture same as the raw materials, more conducive to storage.
3. Figures of pellets from pellet machine: high hardness, smooth surface, fully internal curing degree; can improve the digestion and absorption of nutrition, and can kill pathogenic microorganism and parasite. The pellets are suitable for feeding rabbit, fish, duck and experimental animals, higher economic benefit can be obtained than mixed powder feed.
4. There are more than 20 kinds of dies, suitable to make pellets from different raw materials.
5. Adapt to different materials, guarantee the suppression effect. Sawdust, corn straw takes a lot of pressure, in similar granulating equipment, roller parts is the center of the whole equipment parts, and adopts high quality alloy steel, improve the service life of the roller.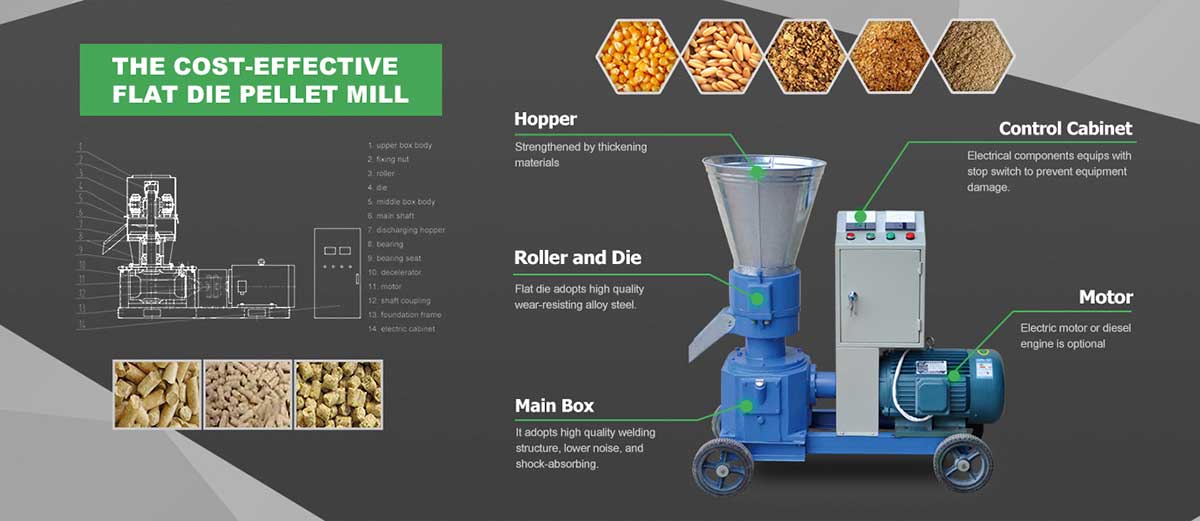 Flat Die Feed Pellet Machine Working Principle
The first pellet mill design at the turn of the 20th century based on flat dies. Generally, there are two types of flat die pellet mills in the market, the rotating die type, and the rotating roller type. The former has a stationary roller with the rotating die while the latter has a stationary die with a rotating roller. Adopting vertical principle, the raw materials drop down by its own weight into the pelletizing chamber where they are compressed between the rollers and die to form pellets by going through the die holes.
Flat Die Feed Pellet Machine Advantages
1. The Feeding Way. Flat die pellet machine feeds the material into the pressing chamber vertically by the weight of itself. And the processing speed is even.
2. The diameter of the roller is out of the limit of the flat die, it can expand the inner bearing space. The bigger bearing not only can increase the endurance of the roller but also improve the pressing power and prolong its life-span.
3. The Discharging Way, the flat die has low rotation speed, then its low rate of spoiled pellets.
4. The roller way adjusting way. Flat die roller can adjust with the thread column by manual rotation or hydraulic automation.
why choose our small pellet mills?
This poultry feed home pellet mills for small poultry farm or home use is different from other feed pellet mills. As for chicken, they are kept for fast and health growth. The feed of chicken should emphasize the nutrition content and ingredients. We developed this homemade chicken feed small pellet mills and focused to increase the integrity of nutrition and palatability which can accelerate chicken to have more than usual. What's more, chicken in different growing stages need different size feed pellets, with this small pellet mills machine, you can make feed pellets from 2-8 mm, meeting different needs.
Parameter

---
| | | | | |
| --- | --- | --- | --- | --- |
| Model | Capacity(KG/H) | Power ( KW ) | Pellet Size ( mm ) | Dimensions ( cm ) |
| FDF-125A | 80-100 | 3 | Φ2.0 - Φ6.0 | 66*35*120 |
| FDF-150A | 90-150 | 4 | Φ2.0 - Φ6.0 | 66*35*120 |
| FDF-125B | 80-100 | 3 | Φ2.0 - Φ6.0 | 63*27*75 |
| FDF-150B | 90-150 | 4 | Φ2.0 - Φ6.0 | 65*27*78 |
| FDF-210 | 200-300 | 7.5 | Φ2.0 - Φ6.0 | 85*35*91 |
| FDF-230 | 350-450 | 11 | Φ2.0 - Φ6.0 | 98*38*94 |
| FDF-260 | 400-500 | 15 | Φ2.0 - Φ6.0 | 108*42*104 |
| FDF-300 | 500-700 | 18.5 | Φ2.0 - Φ6.0 | 130*51*121 |
| FDF-360 | 700-800 | 22 | Φ2.0 - Φ6.0 | 140*56*160 |
| FDF-400 | 900-1200 | 30 | Φ2.0 - Φ6.0 | 150*61*180 |
SEND INQUIRY
Here you can submit any questions and we will get back to you as soon as possible. We will not disclose the information you submit to anyone, please rest assured.
Copyright© 2021 Richi Machinery. All rights reserved. Site Map