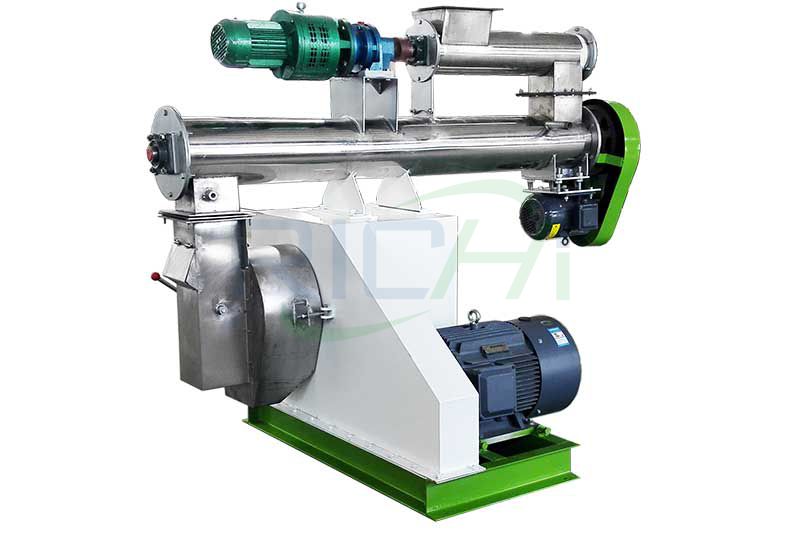 1-2 T/H Feed Pellet Machine
---
Model: SZLH-250
Capacity: 1-2 t/h feed pellet machine
Certification: CE & SGS & ISO
Application: Can be used in chicken, duck, goose, bird, poultry feed and poultry feed pellet production line
E-mail:
sales@cnrichi.cn

Product Description

---
Henan Richi Machinery SZLH250 1-2 ton feed pellet machine for chicken duck goose, is applied for processing grains such as corn, wheat, beans, etc. into animal feed pellets and aquatic feed pellets. Our SZLH ring die feed pellet mill has a good market worldwide and enjoys a high reputation with professional installation guidance and technical support. Need large scale poultry(chicken ,duck ,goose, bird) feed pellet production? SZLH250 feed pellet mill is specially designed for you!
SZLH250 Feed Pellet Machine is a horizontal ring die pellet machine, mainly suitable for 1-2 ton animal feed pellet production line, such as 1-2 ton chicken feed pellet production line, duck feed pellet production line, goose feed pellet production line and so on.
1-2 T/H Feed Pellet Machine Details

1. Stainless Stell Feeder
2. Gear reducer
3. Frequency Conversion Motor
4. SKF Bearing
5. Pelletizing Chamber
6. SIEMENS Motor
7. Conditioner Motor
8. Stainless Steel Conditioner
Features
1.The process flow is continuous and reasonable, and each machine has good performance.
2.The unit has a compact structure, small occupation area, low energy consumption,and high efficiency.
3.Large capacity, suitable for commercial feed pellet plant.
4.Easy maintenance, safe and reliable, less investment and quick effect.
5.Flexible production : Wide product rangeΦ1.5mm-Φ12mm pellets,conditioner with molasses and steam adding function.
6.User-friendly operation : Hydraulic system for ring die change and roller adjustment(optional),quick ad precise operation;auto-lubrication system(optional)and die & roller lifting device,save labor;on-site touch screen control.
Process of Chicken Duck Goose feed can be divided into several stages
Step 01: Raw Materials Reception and Cleaning Process
The first stage involves receiving and cleaning the raw material such as grain, beans, grass or fish meals used for making pellet feed.
Step 02: Feed Crushing Process
The material is then passed into the hammer mill, where it is ground into a size which is suitable for making feed pellets.
Step 03: Feed Mixing Process
The crushed fodder materials are then passed through a feed mixing machine, where different ingredients are added to the feed raw material to ensure that the finished pellet contains all the required nutrients.
Step 04: Animal Feed Pelleting Process
The pelletization stage is the most important stage in the animal feed mill, since the feed powder is converted into pellets of the desired size and shape. Compared to the flat die feed pellet machine, the ring die feed pellet machine has a larger capacity.
Step 05: Feed Pellets Cooling Process
The feed pellets are produced at a temperature of 88 degree centigrade and have a moisture level of 17-18%. For cooling, drying and storage, the moisture level should be reduced to 10-12% . Hence the feed pellets are passed through the pellet cooler, where they are cooled to a temperature which is close to room temperature, dried to reduce the moisture levels.
Step 06: Feed Pellets Packaging
After the animal feed pellets are produced, a semi automatic packing machine is used to put the pelleted feed in bags so that they can stored or transported to the end customer. A computerized machine will measure the feed of a specific amount for each bag, and it will be pneumatically discharged to the bag for packing. The bag with the pellets will move on a conveyor to the area where machines will automatically stitch the open tops of the bag, so that they can be transported.
Parameter

---
| | | | | | | |
| --- | --- | --- | --- | --- | --- | --- |
| Model | Capacity(TPH) | Main Motor Power(kw) | Feeder Motor Power(kw) | Conditioner Power(kw) | Dia.of Ring Die(mm) | Final Pellet(mm) |
| SZLH250 | 1-2 | 22 | 0.75 | 1.5 | 250 | 2~12 |
SEND INQUIRY
Here you can submit any questions and we will get back to you as soon as possible. We will not disclose the information you submit to anyone, please rest assured.
Copyright© 2021 Richi Machinery. All rights reserved. Site Map