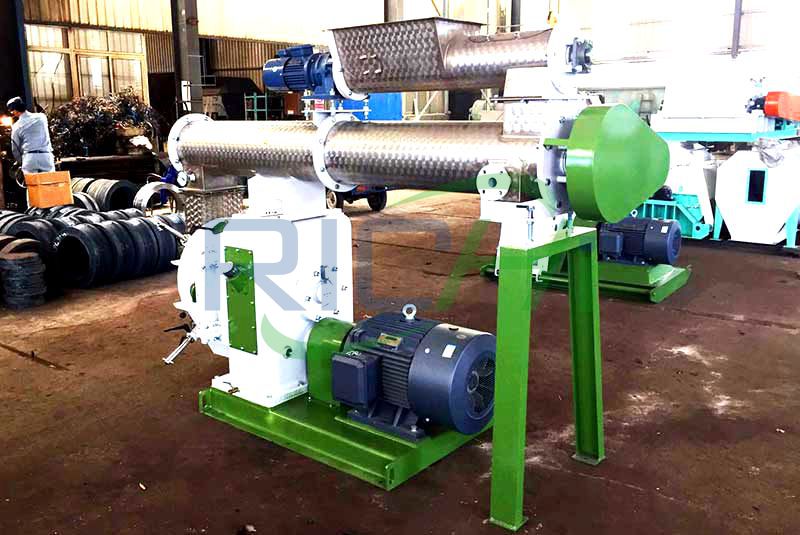 3-4 T/H Feed Pellet Machine
---
Model: SZLH-320
Capacity: 3-4 t/h feed pellet machine
Certification: CE & SGS & ISO
Application: Can be used in cattle, cow, sheep, camel, antelope, giraffe, alpaca, goat feed pellet production line
E-mail:
sales@cnrichi.cn

Product Description

---
Henan Richi Machinery SZLH320 3-4 Ton feed pellet machine for cattle sheep camel, is applied for processing grains such as corn, wheat, beans, etc. into animal feed pellets and aquatic feed pellets. Our SZLH ring die feed pellet mill has a good market worldwide and enjoys a high reputation with professional installation guidance and technical support. Need large scale ruminant(cattle, cow, sheep, came, antelope, giraffe, alpaca, goat) feed pellet production? SZLH320 feed pellet mill is specially designed for you!
SZLH320 Feed Pellet Machine is a horizontal ring die pellet machine, mainly suitable for 3-4 tons of animal feed pellet production line, such as 3-4t/h Cattle feed pellet production line, Sheep feed pellet production line, Camel feed pellet production line, horse feed pellet production line and so on.
3-4 T/H Feed Pellet Machine Details

1. Stainless Steel Feeder
2. Gear Reducer
3. Frequency Conversion Motor
4. SKF Bearing
5. Cutter Assembly
6. Gearbox
7. Shaft Coupling
8. Safety Assembly
9. SIEMENS Motor
10. Stainless Steel Conditioner
Features
1.High driving torque, steady transimmison, main shaft long service life, brief structure, easy maintenance and low maintenance cost.
2.The support sleeve of main shaft and main case is lined with brass bush to prevent occlusion and is easy to dissassembly.
3.Ring die feed pellet mill adopts automatic grease adding system
4.Gear driving system, with good transmission rate, stable and reliable performance and low noise.
5.The key components are imported to ensure longer service life and lower cost for maintenance.
6.Raw material contacting parts are made by stainless steel.
Composition of Ruminants Feed
Ruminant feed is mainly composed of roughage and concentrate feed. Roughage refers to all kinds of forage, hay, crop straw and silage, generally accounts for 40%~90% of total dry matter intake. For animals with low productivity such as the breeding period beef cattle, Sheep, Camel and cows, empty dairy cows and non-breeding adult cattle (sheep), they can be fed roughage. The concentrate feed of ruminants differs from that of monogastric animals. The concentrate feed focuses on the nutritional deficiency of the supplementary roughage. Its nutrient content should be determined according to the quality and quantity of roughage feed, as well as the production performance of the animal, so it is also called concentrate supplement.
Parameter

---
| | | | | | | |
| --- | --- | --- | --- | --- | --- | --- |
| Model | Capacity(TPH) | Main Motor Power(kw) | Feeder Motor Power(kw) | Conditioner Power(kw) | Dia.of Ring Die(mm) | Final Pellet(mm) |
| SZLH320 | 3-4 | 37 | 1.5 | 2.2 | 320 | 2~12 |
SEND INQUIRY
Here you can submit any questions and we will get back to you as soon as possible. We will not disclose the information you submit to anyone, please rest assured.
Copyright© 2021 Richi Machinery. All rights reserved. Site Map