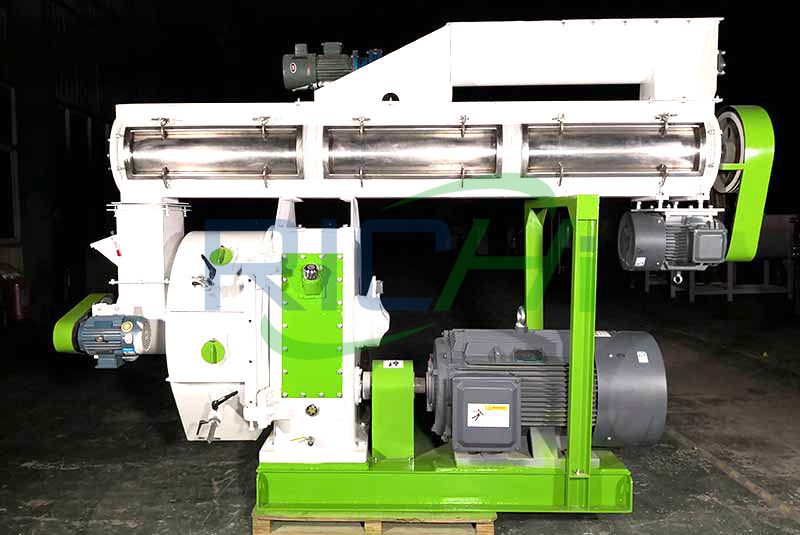 10-18 T/H Feed Pellet Machine
---
Model: SZLH508
Capacity: 10-18 t/h feed pellet machine
Certification: CE & SGS & ISO
Application: Can be used in pig, rabbit, dog, horse, cow, sheep, chicken, pigeon, bird, sinking fish, floating fish, shrimp, crab feed pellet production line
E-mail:
enquiry@pellet-richi.com

Product Description

---
Henan Richi Machinery SZLH508 10-18 ton poultry feed pellet machine, is applied for processing grains such as corn, wheat, beans, etc. into animal feed pellets and aquatic feed pellets. Our SZLH ring die feed pellet mill has a good market worldwide and enjoys a high reputation with professional installation guidance and technical support. Need large scale animal(pig, rabbit, dog, horse, cow, sheep, chicken, pigeon, bird) feed pellet production & aquatic(sinking fish, floating fish, shrimp, crab)feed pellet production? SZLH508 feed pellet mill is specially designed for you!
SZLH508 Feed Pellet Machine is a horizontal ring die pellet machine, mainly suitable for 10-18 tons of poultry feed pellet production line, such as 10-18t/h chicken feed pellet production line, duck feed pellet production line, goose feed pellet production line and so on.
10-18 T/H Feed Pellet Machine Details

1. Stainless Stell Feeder
2. Gear reducer
3. Frequency Conversion Motor
4. SKF Bearing
5. Pelletizing Chamber
6. SIEMENS Motor
7. Conditioner Motor
8. Stainless Steel Conditioner
Features
1.The process flow is continuous and reasonable, and each machine has good performance.
2.The unit has a compact structure, small occupation area, low energy consumption,and high efficiency.
3.Simple structure, suitable for small farmers in rural areas to use.
4.Easy maintenance, safe and reliable, less investment and quick effect.
5.Flexible production : Wide product rangeΦ1.5mm-Φ12mm pellets,conditioner with molasses and steam adding function.
6.User-friendly operation : Hydraulic system for ring die change and roller adjustment(optional),quick ad precise operation;auto-lubrication system(optional)and die & roller lifting device,save labor;on-site touch screen control.
How to choose the right Poultry feed pellet production equipment?
SZLH508 10-18 Ton Poultry Feed Pellet Mill for Pigeon Bird is not a single piece of equipment, and usually requires multiple equipment to cooperate. A complete feed pellet production line includes a complete set of feed pellet machine equipment, which mainly includes feed granulators, feed grinders, mixers, coolers, crushers, classifiers, packing scales, etc. How do we choose the right feed pellet production equipment?
1.Determine the yield of pellets
There are many feed pellet production equipment, and the output is also large or small. The small feed pellet production line has 1-2tph, the big ones have 8-10tph, 15-20tph, 30tph and so on. Determined the feed production volume basically determined the pelletizer model and other equipment models.
2.Finding reliable manufacturers
When the output is determined, we need to find a reliable manufacturer. Which manufacturer of feed pellet production equipment is good? Richi Lisa knows that there are many high-quality feed pellet equipment manufacturers in the world, but users may not know that this requires users to shop around. Choose according to the size of the manufacturer, product quality, after-sales and price. For manufacturers below the market price, we must be cautious, and must not be greedy for cheap and suffer big losses.
3.Design scheme and quotation
Generally strong particle equipment manufacturers have their own engineers to design solutions for different needs of users. China Richi is such a company, according to the needs of users, to make production plans and quotations for users for free. As China's leading pellet equipment manufacturer, Richi has more than 3,000 user cases in more than 80 countries and regions around the world, with output ranging from 1tph to 50tph.
Parameter

---
| | | | | | | |
| --- | --- | --- | --- | --- | --- | --- |
| Model | Capacity(TPH) | Main Motor Power(kw) | Feeder Motor Power(kw) | Conditioner Power(kw) | Dia.of Ring Die(mm) | Final Pellet(mm) |
| SZLH508 | 10-18 | 160 | 2.2 | 11 | 508 | 2~12 |
SEND INQUIRY
Here you can submit any questions and we will get back to you as soon as possible. We will not disclose the information you submit to anyone, please rest assured.
Copyright© 2022 Richi Machinery. All rights reserved. Site Map