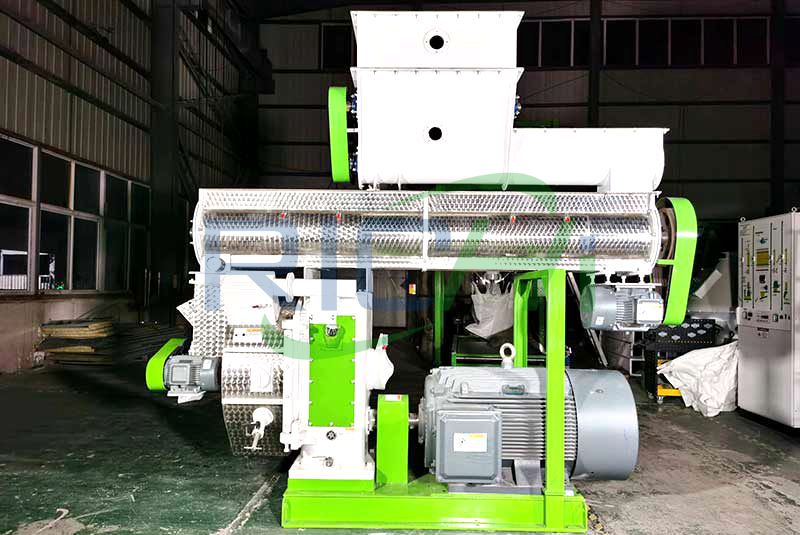 20-30 T/H Feed Pellet Machine
---
Model: SZLH678
Capacity: 20-30 t/h feed pellet machine
Certification: CE & SGS & ISO
Application: Can be used in pig, rabbit, dog, horse, cow, sheep, chicken, sinking fish, floating fish, shrimp, crab feed pellet production line
E-mail:
sales@cnrichi.cn

Product Description

---
Livestock include cattle, sheep, cow, pig, camel, deer, rabbit, Alpaca, etc. that people raise for their meat, eggs, milk, leather, fur, and wool.Many of these livestock animals can be fed with feed pellets, as feed pellets have higher nutrition density, more comprehensive nutrition, higher economic benefits (animals can digest, absorb and conserve better) and are easier to store and transport than traditional roughage (coarse fodder).
Henan Richi Machinery SZLH678 20-30 Ton livestock feed pellet mill is applied for processing grains such as corn, wheat, beans, etc. into animal feed pellets and aquatic feed pellets. Our SZLH ring die feed pellet mill has a good market worldwide and enjoys a high reputation with professional installation guidance and technical support. Need large scale animal(pig, rabbit, dog, horse, cow, sheep, chicken) feed pellet production or aquatic(sinking fish, floating fish, shrimp, crab)feed pellet production? SZLH678 feed pellet machine is specially designed for you!
20-30 T/H Feed Pellet Machine Details

1. Feeder
2. Stainless Steel Conditioner
3. Conditioner Motor
4. SIEMENS Motor
5. Shaft Coupling
6. Safety Assembly
7. Pelleting Chamber
8. Forced Feeder
9. Conditioner
10. Feeder Motor
Features
1.The feed pellet mill is equipped with stainless steel feeder to guarantee accurate and reliable material feeding.
2.It adopts fully stainless steel conditioner and large open access door for convenient maintenance.
3.Stainless steel feeding pipe, door cover and scaleboard, which are beautiful and anti-corrosion.
4.Full stainless steel increased conditioning device ensure high quality of feed pellet.
5.Frequency conversion (Electromagnetic speed control) feeder, with overload protection device,equipped strong magnetic security device.
6.High output, low noise, convenient operation and maintenance.
Processing Technology Of Livestock Feed Pellets
SZLH678 livestock feed pellet machine is a horizontal ring die pellet machine, mainly suitable for 20-30 tons of animal feed pellet production line, such as 20-30t/h poultry feed pellet production line, ruminant feed pellet production line, livestock feed pellet production line and so on. The following processing procedures are complete technical process for livestock feed pellet production, but in fact not all procedures are required in practical production.
1. Raw material reception and storage
Livestock feed raw materials vary, they include: long material like crop straw, grains like wheat, maize, and others like oil cake/meal, additives, etc. different raw materials have different storage methods. For example, in complete feed pellet line of large capacity, storage silo is necessary for storing maize, wheat, and other grains.
2. Feed material cleaning
The impurities in feed raw materials not only affect the quality of feed products but also directly relate to the feed processing equipment and personal safety. In serious case, the whole equipment can be destroyed, which impacts the smooth progress of the feed production, so the impurities must be removed in time. The cleaning equipment of the feed pellet plant is based on screening and magnetic separation equipment. Screening equipment is used to remove large and long impurities such as stones, mud blocks and sacks. The magnetic separator is mainly used to remove iron impurities.
3. Feed raw material crushing
The technological process of feed crushing is determined according to the required fineness and the variety of feed. According to the times of raw material crushing, it can be divided into one stage crushing process, circulation crushing process or two stage crushing process. According to the combination form of batching, it can be divided into first batching, then crushing and first crushing then batching technology.
4. Feed mixing process
There are 2 feed mixing methods: batch mixing and continuous mixing. Batch mixing is to blend all the components together according to the proportion of the formula, and mix them in the periodically running "batch mixer". This mixing method is convenient for replacing feed formula, and the intermixing between each batch is less, so batch mixing is commonly applied at present. However, as the start and stop operation is complex, the automatic program control is mostly used.
The continuous mixing process is a continuous measurement of all kinds of feed components at the same time respectively and proportionately matched to a stream containing various feed components. When the stream enters a continuous mixer, it is mixed continuously into a uniform flow of material. The advantage of this process is that it can be carried out continuously, easily with comminution and granulation, so the production does not need to operate frequently. but when changing feed formula, the adjustment of the flow is more troublesome and the material residue in the continuous conveying and continuous mixing equipment is more, so the intermixing problem between the two batches of feed is more serious.
5. Feed pelletizing
There is 600-1000kg/h small feed pellet plant that uses flat die feed pellet machine and >1T/h feed pellet line that uses ring die feed pellet mill.
Flat die feed pellet machine: the mixed feed material is uniformly distributed into the feed pellet machne, and the rotating roller and flat die will press the material, and the densified material go though flat die holes to form cylindrical granules, finally desirable size (both length and diameter) feed pellets are cut by the cutting blades and discharged from the feed pellet machine outlet.
Ring die feed pellet mill: in medium to large scale feed processing factory, feed material conditioning (tempering) is necessary, so ring die feed pellet mill is usually equipped with a conditioner on the top. The conditioning result directly influences feed pellets quality. The purpose of conditioning is to add water to the feed powder to let it has certain moisture content. After conditioning, the feed material is distributed evenly between the roller and ring die, so the feed pellets are pressed out through ring die holes, cut and discharged.
6. Feed pellets cooling
As in the process of pelletizing, the feed is input high temperature and humidity steam, and the squezzing process generates great heat, so the feed pellets moisture content can reach 16-18%, and temperature reach 75℃-85℃. Under this condition, the feed pellets are easily deformed and broken, and would bond and mildew in storage, so it is necessary to reduce their moisture to below 14% and decrease the temperature to below 8 degrees Celsius.
7. Feed pellets crumbling
For making young livestock feed pellets of small size, crumbling is also necessary. In order to save electricity, increase the output and improve the quality, the feed material is often made into a certain size pellets in order to save electricity, and then broken into required smaller pellet size. But it is not a must for all feed pellets manuracturers.
8. Sieving (screening)
In small feed pellet plant, this process is realized by the feed pellet cooler. But in larger capacity medium feed pellet line, if the crumbler is used, the pellet sieving machine is also needed, since it can separate the powder from eligible feed pellets, so that uniform feed pellets can be deliver to later packaging process, and the powder or uneligible feed pellets can go back for reproduction.
9. Feed pellets packaging
Parameter

---
| | | | | | | |
| --- | --- | --- | --- | --- | --- | --- |
| Model | Capacity(TPH) | Main Motor Power(kw) | Feeder Motor Power(kw) | Conditioner Power(kw) | Dia.of Ring Die(mm) | Final Pellet(mm) |
| SZLH678 | 20-30 | 220/250 | 2.2 | 11 | 678 | 2~12 |
| SZLH678D | 15-25 | 200/220/250 | 2.2 | 11 | 673 | 2~18 |
SEND INQUIRY
Here you can submit any questions and we will get back to you as soon as possible. We will not disclose the information you submit to anyone, please rest assured.
Copyright© 2021 Richi Machinery. All rights reserved. Site Map