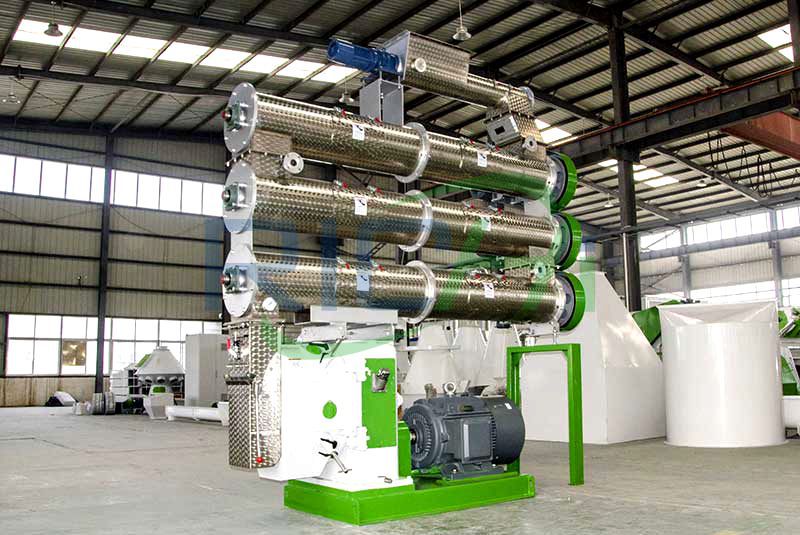 25-42 T/H Feed Pellet Machine
---
Model: SZLH858
Capacity: 25-42 t/h feed pellet machine
Certification: CE & SGS & ISO
Application: Can be used in pig, rabbit, dog, horse, cow, sheep, chicken, pigeon, bird, sinking fish, floating fish, shrimp, crab feed pellet production line
E-mail:
enquiry@pellet-richi.com

Product Description

---
Henan Richi Machinery SZLH858 25-42 ton large pelletizing machine is applied for processing grains such as corn, wheat, beans, etc. into animal feed pellets and aquatic feed pellets. Our SZLH ring die feed pellet mill has a good market worldwide and enjoys a high reputation with professional installation guidance and technical support. Need large scale animal(pig, rabbit, dog, horse, cow, sheep, chicken) feed pellet production or aquatic(sinking fish, floating fish, shrimp, crab)feed pellet production? SZLH858 feed pellet machine is specially designed for you!
SZLH858 large pelletizing machine is a horizontal ring die pellet machine, mainly suitable for 25-40 tons of animal feed pellet production line, such as 25-40t/h poultry feed pellet production line, ruminant feed pellet production line, animal feed pellet production line and so on.
25-42 T/H Feed Pellet Machine Details

1. Stainless Steel Feeder
2. Frequency Conversion Motor
3. SKF Bearing
4. Stainless Steel Conditioner
5. Observe Port
6. Cutter Assembly
7. Gearbox
8. Shaft Coupling
9. SIEMENS Motor
10. Safety Assembly
Features
1. Imported high-quality bearing and oil seal are adopted to ensure efficient, stable and low-noise whole machine operation . the granulating room is equipped with air suction temperature reducing system.
2. Widely applied product with mature technology.
3. The main driving adopts high-precision gear drive, so that the output is improved by about 20% when compared with that of belt drive.
4. The feeder adopts variable-frequency and variable-speed motor to ensure the quality of discharged particles.
5. International advanced compensation type snakelike spring coupling has the propertied of novel and compact structure, high safety, low noise and low fault rate.
6. Ring dies with multiple kinds of bore diameters are optional . and high-quality craft ring dies are adopted, so that the service life is long. The discharged particles are smooth and the quality is high.
What sections are included in a complete feed pellet production line?
A complete feed pellet production line requires not only one or two equipments. As far as the main equipment is concerned, there are seven types according to the order of the process section: feed crusher → feed mixer → feed pelletizer → countercurrent cooler → feed pellet Pulverizer → Feed particle classification screen → Automatic weighing and packing machine.
1. Raw Material Grinding Process:
The feed grinder can grind the raw material ingredients to the required size. The grind fitness is different of different grinders.
2. Feed Material Mixing Process:
Mixing is considered to be one of the essential operations in feed pellet processing. Lack of proper mixing may lead to reduced diet uniformity, affecting the feed pellet quality.
3. Feed Pelletizing Process:
Feed pellet mill is the main equipment of the whole production line. There are two common kind of feed pellet mills: ring die feed pellet mill and flat die feed pellet mill. If you want to produce feed pellet with large quantity, the ring die feed pellet mill is the ideal choice.
4. Feed Pellet Cooling Process:
The feed pellet pressed out by the feed pellet mill are hot and moist. They can't be crushed, screened or packed immediately. Counterflow feed pellet cooler is designed to cool or dry the feed pellet. It can decrease the temperature and moisture of the feed pellet, preparing for the following processes.
5. Feed Pellet Crushing Process:
Different poultry, livestock or aquatic feed pellet are with different sizes. Some big ones should be crushed into small ones.
6. Feed Pellet Screening and Grading Process:
The crushed feed pellet are with different sizes, and there may be some powder. Therotary grading sieve can be used to screen and grade the feed pellet. After processing, you can get the qualified feed pellet without fine powder.
7. Feed Pellet Packing Process:
The feed pellet should be packed for transporting, storing or selling. Automatic weighing and packing machine can weigh and pack the pellet automatically with high accuracy.
8. Automatic PLC Control System:
With the automatic PLC control system, the production line is with high efficiency and convenient operation.
Parameter

---
| | | | | | | |
| --- | --- | --- | --- | --- | --- | --- |
| Model | Capacity(TPH) | Main Motor Power(kw) | Feeder Motor Power(kw) | Conditioner Power(kw) | Dia.of Ring Die(mm) | Final Pellet(mm) |
| SLZH858 | 25-42 | 280/315 | 2.2 | 15 | 858 | 2~18 |
SEND INQUIRY
Here you can submit any questions and we will get back to you as soon as possible. We will not disclose the information you submit to anyone, please rest assured.
Copyright© 2022 Richi Machinery. All rights reserved. Site Map