2-3 Ton/hour Shrimp Feed Pellet Production Line Equipment
Date: 07/12/2020 08:26:07 From: feed-pellet-plant.com Clicks:
Kindly Reminder:
If you are interested in our products, Please get in contact with us
The equipment required for 2-3 Ton/hour shrimp feed pellet production line is higher than that for animal feed pellet. Because shrimp live under water, the compression ratio of shrimp feed particles is higher, and it is not easy to dissolve in water, so as to improve the utilization rate of shrimp pellet and reduce waste. Richi Machinery recently received an inquiry from a customer in Indonesia. Consult 2-3 Ton/hour Shrimp Feed Pellet Production Line Equipment. The following is the new content from customers: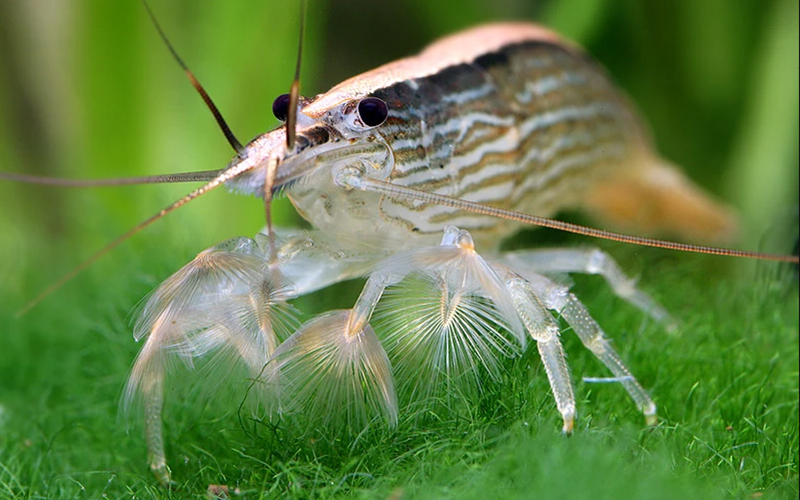 "Dear Mr/Mrs,
My name is Budi Prayitno, I worker at PT Mitra Manggalindo Company in Indonesia.We are moving in the business field: Shrimp Feed etc.Following matters above, we needs some machines as follows:
Shrimp Feed Machine Process Flow
Capacity 2-3 Ton/Hour
Machine Price Request Details Attached
Can you give details and Specification of the price of the machine.We are interested in all of those machines as explained above.We would like to ask your latest prices regarding those machines include terms of conditions for payment and shipping to our company in Lampung, Indonesia.
Thank you for your concern, We are looking forward to reciving your reply. Best Regard, Budi Prayitno
This customer wants to know the equipment of shrimp feed pellet production line of 2-3 tons/hour. First of all, what kind of equipment do we need for a complete shrimp feed pellet production line?
How to Make Shrimp Floating Feed Pellets
At present, there are two kinds of main types of shrimp in the market, which are hard pellet feed and extruded feed. Hard particles feed mainly made through the flat die and szlh. Due to the simple structure of flat die pelletizing machine, the product quality is not high, and the yield is relatively low, so commercial hard particles of the shrimp feed is mainly produced through ring die pelletizing machine. In the processing, after crush and mix the material, starch gelatinization and protein denaturation in steam conditioning functions, the viscous force enhance between material, finally it was formed by the die hole and granulating machine-fish feed extruder.
Shrimp feed pellet production line process:Shrimp Feed Pellet Production Line
1. Raw material selection
Besides the nutritional value, the processing characteristics of aquatic feed raw materials should also be an important factor to be concerned about. The ideal processing characteristics of aquatic feed raw materials are not only manifested by larger output and less energy consumption in crushing, mixing or granulation, the more important point is that the final produced fish feed pellets must have good stability in water.
Starch is usually an important component in aquatic feeds, and the content of starch can be 5% to 60%. It is suggested that the starch content of sinking fish feed is 10% to 15%, and the starch content of floating fish feed is no less than 20%. In extruding fish feed pellets, carbohydrates act as adhesives, suspending agents, and emulsifiers. It is an important determinant of many structures and special sensory properties of extruded products.
2. Crushing
Crushing process can reduce raw material size to desired particle size. For producing 150-700kg/h fish feed pellets with regular requirements, the hammer mill is enough. For producing 1-10T/h fish feed pellets, the water-drop crusher is a must. For even larger aquatic feed manufacturing factory, the crushing process adopts secondary crushing technology, that is: first normal crushing, and then fine crushing.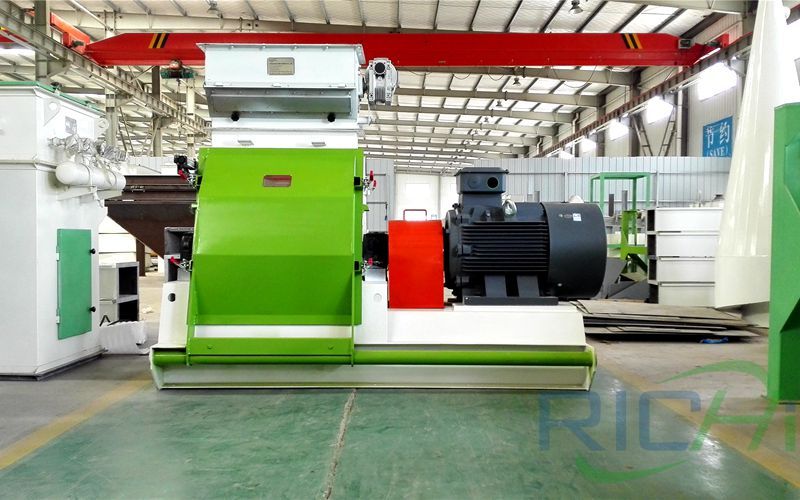 Hammer Mill
3. Mixing
Mixing is one of the most important processes in aquatic feed production. If the physical properties of feed ingredients are the same, mixing is very simple. But as a matter of fact, the physical properties of feed ingredients are varied, and the problem of mixing and separation coexist. These physical properties include: particle size, particle shape, density or specific gravity, hygroscopicity, static charge and viscosity.
When adding material to the mixer, the smaller the ingredient is, the later it should be added., such as vitamins, minerals and drug premixture. Before adding oil or liquid, all dry ingredients must be mixed well (dry mixed). After dry mixing, spray oil or other liquids on the top, then mix again (wet mix). Horizontal twin screw mixer is the most commonly used mixer for aquatic feed. Usually there is a discharge port equal to the full length of the mixer at the bottom. Most fish feeds need to add some liquids. In some cases, they need to add some moist raw materials. In practice, it is generally allowed to add 10% of the liquid.
4. Conditioning (optional)
Conditioning is to add water and heat to the powdery material before making fish feed, it can: improve the digestibility and water resistance of feed, kill pathogenic bacteria. Usually this process is realized by wet type fish feed extruder, but its price is much higher. So, for ordinary fish feed production, this process is not necessary.
5. Fish feed pelletizing or extruding
For making fish feed pellets, there are mainly 2 types of machines: common feed pellet mill, fish feed extruder.
Common feed pellet mill can produce sinking fish feed and fish bait. Compare to making livestock or poultry feed pellets, the production of fish feed using feed pellet mill has the following features: higher compression ratio.
Fish feed extruder:Nowadays, the most widely used fish feed extruder is single screw type. While the single screw fish feed extruder can also be divided into dry extruder and wet extruder. The fish feed extruder can produce all kinds of fish feed, like floating fish feed, sinking fish feed, slow sinking fish feed, and also semi-humid fish feed. However, as the feed extruding machine has complex operation, high price, and high production cost compared to common feed pellet mill, it is usually utilized in producing high grade aquatic feed.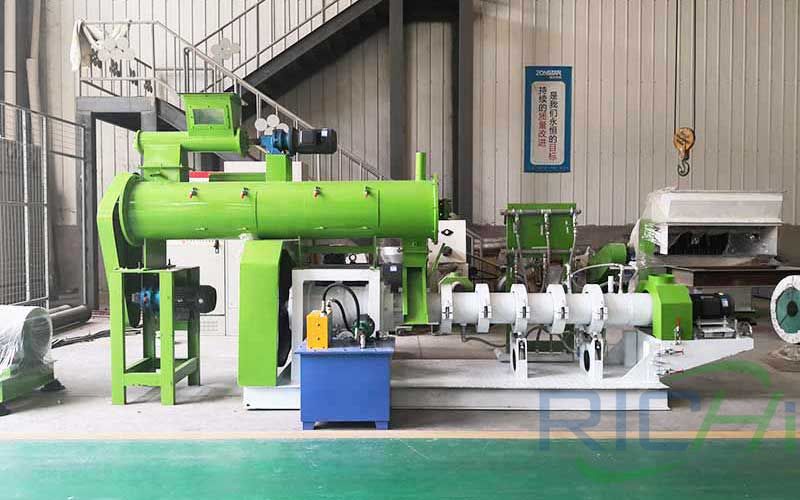 Fish Feed Pellet Extruder
6. Fish feed pellets drying
In order to prevent mildew of fish feed, aquatic feed must have good anticorrosive property. For fish feed factories, the most economical way is to reduce feed moisture, this is realized by dryer. The 3-layer drying machine can improve drying space and efficiency, at the same time screen fish feed pellets and seprate the powder. After heating and drying, the moisture content of the product is controlled below 11.5%, plus a well sealed outer package, generally, the feed can be stored safely for a long time. This physical anticorrosion method does not change the composition of feed, change the pH value of feed, nor affect the water quality of and feed quality. It is a safe and effective method.
7. Out-spraying
In fish or aquatic feed production, the edible oil and heat-sensitive components are usually sprayed by drum-type sprayer. When feed pellets fall, the vaporous liquid material is sprayed to them, so feed pellets can fully contact with droplets in the air. The main technical points of this external sparying technology are: (1) make the liquid atomized as much as possible. The smaller the droplets of atomization, the more uniform the distribution of liquid in the particles. To do this, the design of the spray nozzle is very important; (2) the weight of the particles and the liquid material match. The outside spraying process is a continuous operation process, so the water solubility of spraying liquid must be considered to avoid loss into the water.
8. Fish feed pellets cooling
The fish feed pellets, after spraying liquid, are conveyed to counter-flow cooler. The counter-flow cooler has many advantages in fish feed pellets processing, such as high automation, small air volume, low power consumption and small floor area.
RICHI Complete Plant Solutions
RICHI is a leading global supplier of extrusion equipment and systems, whether your needs are for individual process machines, complete processing lines, spare parts or engineering services. Our dedicated staff of experienced project managers and experts build plants that are easy to operate with short implementation times and proven track record – one that distinguish us from other suppliers and makes us the stand-out partner for the aqua feed processer. With more than 26 years of feed production experience, RICHI is unique in the ability to manufacture and supply every machine for aqua feed production - from raw material intake to finished feed bulk loading.
The above is the article for you: 2-3 Ton/hour Shrimp Feed Pellet Production Line Equipment. If you are interested in our products or project solutions, please contact us. We will give you the best product quality and the best price. Email: sales@cnrichi.cn
SEND INQUIRY
Here you can submit any questions and we will get back to you as soon as possible. We will not disclose the information you submit to anyone, please rest assured.
Copyright© 2021 Richi Machinery. All rights reserved. Site Map