3-4 TPH Feed Pellet Production Line Description

---
3-4 ton feed pellet production line production process
1. Raw Material Storage: This process is often a technical one which begins with the storage of raw materials such crop straws, grains and other additives in large silos.
2. Cleaning Process: After storage, impurities such as stones, sacks need to be removed in time so as to ensure smooth production of the feed products.
3. Crushing Process: The raw material is then taken to a crushing area where it is crushed in two stages and placed into batches waiting for the next stage where feed materials are weighed manually and poured into mixing machines.
4. Mixing Process: At the mixing chamber the feeds are mixed using both continuous and batch methods in order to ensure that the components blend with another perfectly and also for replacing the lost feed formula.
5. Pellets production Process: The feed is then pelletized using flat die feed pellet mill or ring die feed pellet mill which ensures that the material is heavily densified in desirable sizes.
6. Cooling Process: In the end, the feed pellets will be cooled to between 75-85degrees. Sieving machine is also needed as the sieving process is able to separate powder from finished feed pellets in which the pellets are packed while powder goes back to pelletizing process.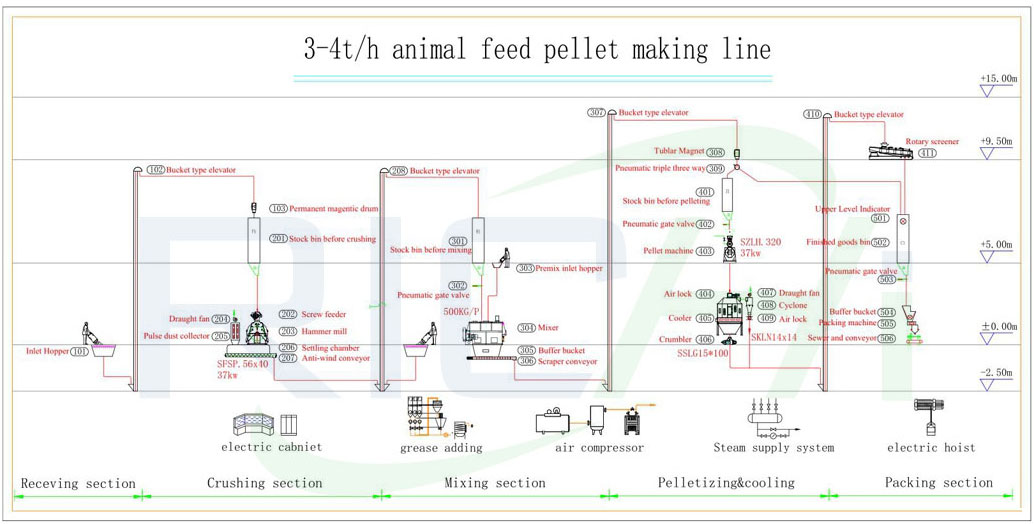 If you are interested in our feed pellet production line, please leave us a message with:
What animal feeds do you want to manufacture?
What capacity do you need?
What feed processing equipments do you need? (If you have no idea, just contact us for professional guidance!)
What raw materials do you have? (optional)

SEND INQUIRY
Here you can submit any questions and we will get back to you as soon as possible. We will not disclose the information you submit to anyone, please rest assured.
Copyright© 2022 Richi Machinery. All rights reserved. Site Map