Floating fish feed pellet production line FAQ
Date: 04/03/2020 14:35:13 From: feed-pellet-plant.com Clicks:
Kindly Reminder:
If you are interested in our products, Please get in contact with us
Q: How long does the floating fish feed float on the water surface? A: It can float more than 24 hours. While the floating time can be adjusted when the pellets are extruded.
Q: Does the floating fish feed extruder can only make feed pellets for fish? A: It can make feed pellets for fish, catfish, shrimps, prawns, crabs, cat, dog, etc
Q: What size of pellet can be made by your machine? A: based on the diameter of the die moulds. We can customized die moulds with diameter of 0.9-15mm.
Q: Do you supply the floating fish feed production line? A: We can supply a floating fish feed product line include feed hammer mill, powder mixer, fish feed pellet extruder, feed pellet dryer, fish feed pellet cooler, feed pellet weighing and packing machine. The capacity is from 60-5000kg/h.
Q: Is there a formula of making the floating and sinking fish feed pellet ? A: We can offer free formula for different feed pellets to our customers.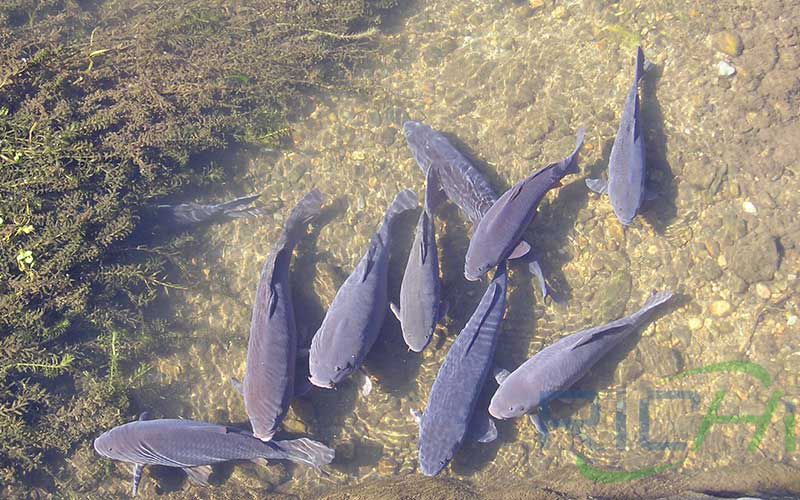 Floating fish
floating fish feed pellet line process
| | | | |
| --- | --- | --- | --- |
| No. | Process | Machine | Description |
| 1 | Crushing | Crusher/Hammer mill | To crush the raw materials such as grains into flour/powder |
| 2 | Mixing | Mixer | To mix different flour materials together and evenly |
| 3 | Extruding and pelleting | Fish Feed Extruder | To make fish feed pellet, the material is processed by high temperature and pressure and pelletized into round pellets, suitable for feeding fish, we could produce both floating fish feed and sinking fish feed. |
| 4 | Drying | Dryer | To dry the fish feed pellets coming from the extruder |
| 5 | Cooling | Contraflow Cooler | To cool the fish feed pellets, the fish feed pellets could be stored for a long time. |
| 6 | Flavoring | Rotary flavoring machine | To seasoning the fish feed, spray oil and other liquid additives on the surface of fish feed pellets, make the feed more delicious. |
| 7 | Packaging | Automatic Packaging machine | To pack fish feed pellets into bags, easy for store, transportation and for sale in the market. |
The above is the article for you: Floating fish feed pellet production line FAQ. If you are interested in our products or project solutions, please contact us. We will give you the best product quality and the best price. Email: enquiry@pellet-richi.com
SEND INQUIRY
Here you can submit any questions and we will get back to you as soon as possible. We will not disclose the information you submit to anyone, please rest assured.
Copyright© 2022 Richi Machinery. All rights reserved. Site Map