10 T/h Poultry Pellet Production Line Exported To Venezuela
Date: 06/22/2020 08:35:36 From: feed-pellet-plant.com Clicks:
Kindly Reminder:
If you are interested in our products, Please get in contact with us
Recently I received an inquiry from a Venezuelan customer that he needs 10t of feed pellets per hour. Below is the content and specific requirements of his letter.
Hello I hope that this e-mail find you well! I need a quotation for an equipment with Capacity in 10 Tons per hour: at least 10 tons/hour of animal feed (poultry), pellet diameter: 3,5 mm or 4mm. With Electrical reqs: 220V, 60Hz 3 fases + ground. The raw material formula mix is: 60% to 70% of corn; and 40% to 30% of a mixture with soy bean and sorghum. Please, quote your equipment model SZLH42.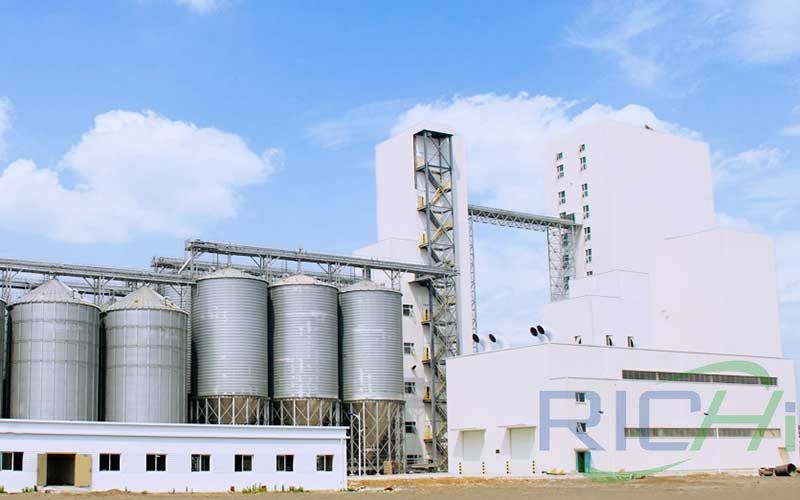 10 T/h Poultry Pellet Production Line
Please feel free to suggest the equipment that meet these parameters. Please, include in the quotation:
1) 20 year of spare parts (according to the machine Preventive maintenance program or all the pieces that needs to be replaced in 01 or 02 years after the machine starts up)
2) Shipping and handling costs to La Guaira Port in Venezuela (FOB price)
IMPORTANT!: All the product documentation as Handbook, user manuals, electrical drawings, etc., must be writen in spanish as a first ption or writen in english as a secondary option. Also, I need to know about your clients, after sales service, product waranty, etc. Thanks in advance and waiting for a soon reply from you! Rob
1. 10 T/h Feed Pellet Machine Parameter
| | | | | | | |
| --- | --- | --- | --- | --- | --- | --- |
| Model | Capacity(TPH) | Main Motor Power(kw) | Feeder Motor Power(kw) | Conditioner Power(kw) | Dia.of Ring Die(mm) | Final Pellet(mm) |
| SZLH420 | 8-12 | 110 | 1.5 | 7.5 | 420 | 2~12 |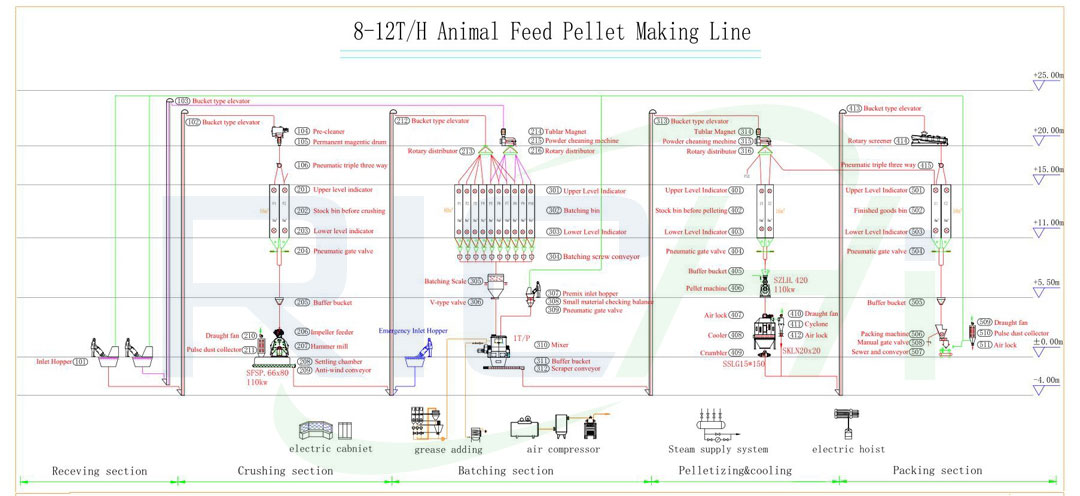 8-12 tph feed pellet production line
(1) Raw Material Crushing Section:
The feed grinder can grind the raw material ingredients to the required size. The grind fitness is different of different grinders. We supply four types of feed grinders. The hammer mills are suitable for small-sized or medium-sized feed pelletizing plants. The wide chamber fine grinders and water drop hammer mills are usually used in large-sized and medium-sized feed pelletizing factories. The ultra fine feed grinder is designed for grinding raw materials of special aquatic feed.
(2) Feed Material Mixing Section:
Mixing is considered to be one of the essential operations in feed pellet processing. Lack of proper mixing may lead to reduced diet uniformity, affecting the feed pellet quality. We supply two kinds of high efficiency feed mixers: twin-shaft mixer for mixing powdered or particle materials and screw belt mixer for mixing powdered materials. Both of them can be equipped with atomizing spraying system to add needed liquids, which can improve the feed pellet quality.
(3) Feed Pelletizing Section:
Feed pellet mill is the main equipment of the whole production line. There are two common kind of feed pellet mills: ring die feed pellet mill and flat die feed pellet mill. If you want to produce feed pellets with large quantity, the ring die feed pellet mill is the ideal choice. If your demanded quantity is small, you can choose the flat die feed pellet mill. Also, we supply the aquatic feed pellet mill for pressing fish feed pellets and shrimp feed pellets etc. If you have more question about customized feed pellet production requirement, please feel free toleave message or send email for more support.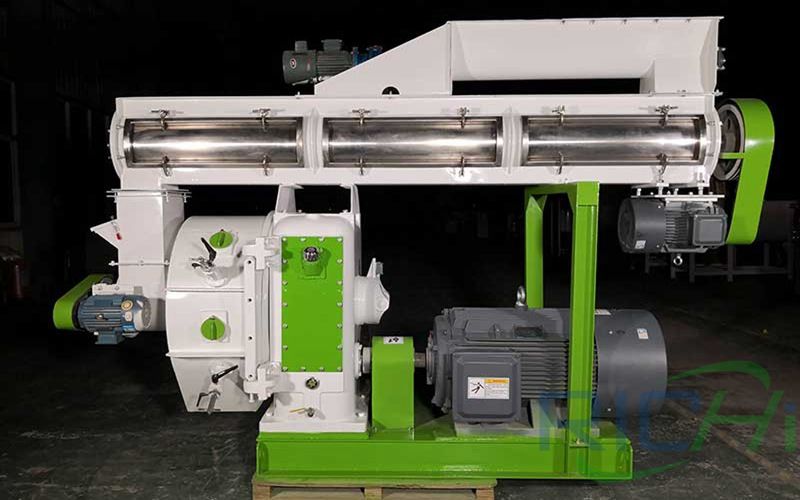 Feed pellet mill
(4) Feed Pellet Cooling Section:
The feed pellets pressed out by the feed pellet mill are hot and moist. They can't be crushed, screened or packed immediately. Counterflow feed pellet cooler is designed to cool or dry the feed pellets. It can decrease the temperature and moisture of the feed pellets, preparing for the following Sectiones.
(5) Feed Pellet Crushing Section:
Different poultry, livestock or aquatic feed pellets are with different sizes. Some big ones should be crushed into small ones. Roll type feed pellet crumbler is just the equipment for feed pellet crushing. Double-roll feed pellet crumbler is suitable for crushing poultry feed, such as chicken feed, duck feed and goose feed etc. Three-roll feed pellet crumbler is suitable to crush aquatic feed including fish feed and shrimp feed etc.
(6) Feed Pellet Screening and Grading Section:
The crushed feed pellets are with different sizes, and there may be some powder. Therotary grading sieve can be used to screen and grade the feed pellets. After processing, you can get the qualified feed pellets without fine powder.
(7) Feed Pellet Packing Section:
The feed pellets should be packed for transporting, storing or selling. Automatic weighing and packing machine can weigh and pack the pellets automatically with high accuracy.
(8) Automatic PLC Control System:
With the automatic PLC control system, the production line is with high efficiency and convenient operation.
Factors Affecting Pellet Quality
Pelleting method
Most of the results of the improved energy and protein values of feeds were obtained with steam-pelleting, but to a lesser extent with dry-pelleting. It was felt that dry pelleting only changes the bulk density for ease of prehension but would not give all of the chemical changes associated with the steam-pelleting. In addition, the enhanced availability of dietary phosphorus brought about by the steam-pelleting over the dry-pelleting could be an additional factor contributing to the improved feed quality and the better performance of the birds when fed the steam-pelleted feeds.
Pelleting temperature
There is a little or no vitamin destruction with pelleting temperatures of up to 80°C. Rations can, therefore, be pelleted at any temperature up to 80°C that will allow for maximum production per hour without any fear of vitamin destruction or decreased ration performance. The same holds true with the energy value of the processed feeds. In one study, the ME value of corn and a soybean mixture was 3.05 and 3.04 Kcal/g at a pelleting temperature of 70°C and 80°C respectively but was reduced to 2.91 Kcal/g at 90°C.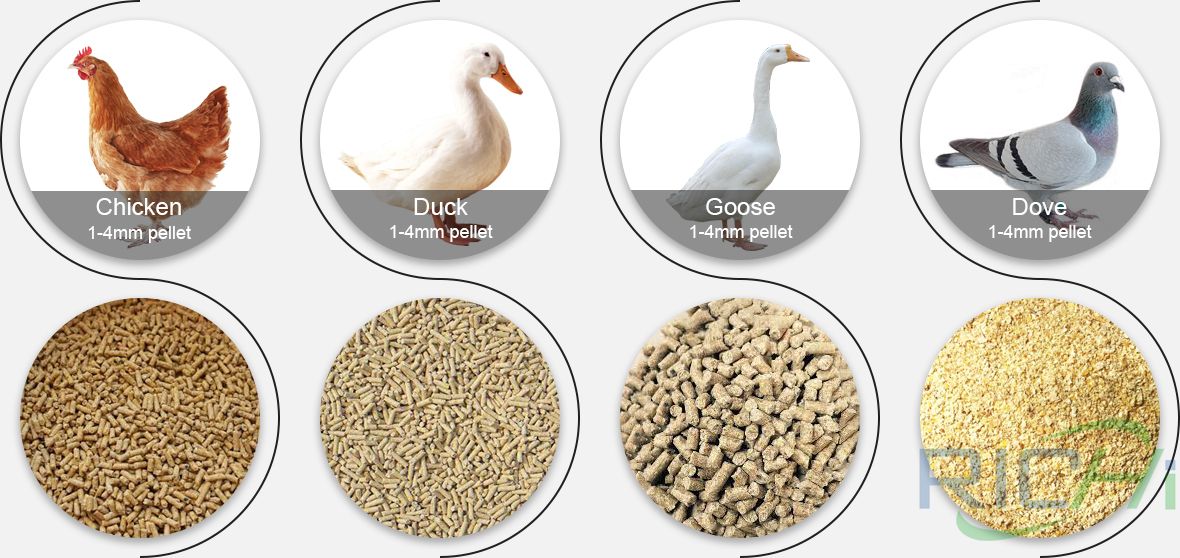 Factors Affecting Poultry Pellet Quality
Durability
Several feed additives have been shown to produce a marked increase in the firmness of pellets. Among the most widely used are:
Pulverised bentonites;
Liquid or solid by-products of the wood pulp industry, consisting mainly of hemicelluloses, or combinations of hemicelluloses and lignin; and Guar meal, produced in Asia, also has been reported to improve pellet firmness.
While bentonites possess no nutritive value, several reports have indicated that at the level of common usage, which usually does not exceed 2.5% of the diet, bentonites have no detrimental effects and, indeed, may improve growth and/or feed utilisation in chickens. The hemicellulose preparations at levels up to 2.5% may serve as good energy sources since the pentose sugars resulting from hemicellulose hydrolysis are well utilised by chickens up to a level of about 5% of the diet. Lignin, however, has no nutritive value for the chicken.
Moisture addition at the mixer has also been shown to increase pellet durability and decrease pellet mill energy consumption. The increase in pellet durability alone should economically improve broiler production. Generally, a range of 15 to 17% moisture is employed. However, feeds containing liberal quantities of high fibre ingredients will require a higher level of moisture while feed low in fibre will require less moisture. If the moisture addition procedure is followed, then extra drying of the pellets is required so that the mould will not occur in storage.
Recent work has indicated that molasses may be used advantageously as a pellet binder. In one study, the percentages of pellets remaining after tumbling a 100g sample of corn-soybean diet for 10 minutes were 85.6% and 89.8% with molasses levels of 0% and 3%, respectively. Besides aiding in pelleting, molasses would also contribute energy to the diet and thus the addition of 1 to 2% molasses in certain diets should be considered.
Other advantages of pelleted feeds include:
Decreased feed wastage
Reduced selective feeding
Decreased ingredient segregation
Destruction of pathogenic organisms
Reduced dustiness and increased palatability thus
making for greater consumption
Reduced storage spaces
Increased utilisation of fibrous fraction of feedstuffs
Adaptable to bulk and mechanised feeding
Allows partial gelatinisation of starch and modification of the protein in grains making them more susceptible to enzymatic action and better digestion.
The above is the article for you: 10 T/h Poultry Pellet Production Line Exported To Venezuela. If you are interested in our products or project solutions, please contact us. We will give you the best product quality and the best price. Email: enquiry@pellet-richi.com
SEND INQUIRY
Here you can submit any questions and we will get back to you as soon as possible. We will not disclose the information you submit to anyone, please rest assured.
Copyright© 2022 Richi Machinery. All rights reserved. Site Map