New feed factory construction skills
Date: 05/21/2020 08:58:46 From: feed-pellet-plant.com Clicks:
Kindly Reminder:
If you are interested in our products, Please get in contact with us
Many times, the owner will designate a particular brand or model of equipment they want in the plant. Examples of this would be asking for a specific brand of pelleting or grinding equipment. There are no U.S. equipment companies that can offer a complete equipment package for a complete feed mill resulting in more than one brand of equipment for the whole process. There are some international companies, such as Bühler, Richi and others, that can supply all the equipment required.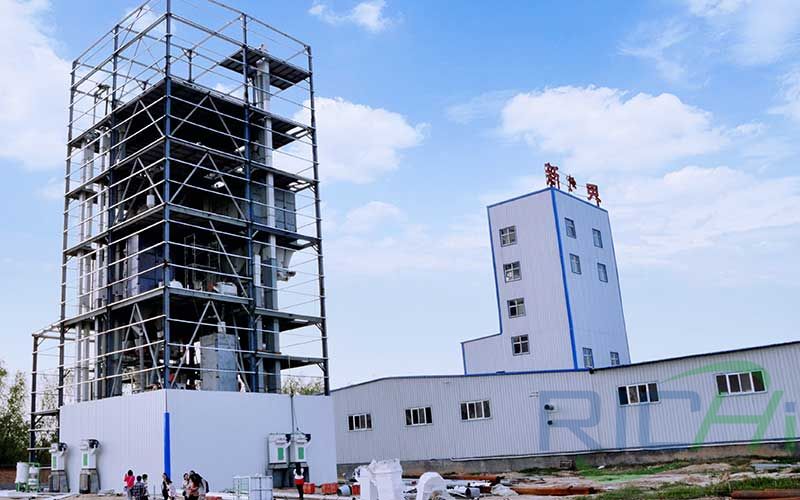 New feed factory construction skills
Maintenance begins at the point the equipment is chosen. Each piece of equipment requires space around it to be able to properly maintain it.
The facility design must include access to originally install or place each piece of equipment. Consideration in the facility design not only needs to allow for initial placement, but also a plan to remove parts of the equipment that may need to be removed and set aside when performing maintenance on a machine. This might include space for removing a cover or equipment parts and set them aside to work on interior parts of the machine.
One example would be taking off a cover and then removing and replacing screen decks on screening equipment. Another example would be being able to remove or replace the mixing shaft in a mixer or exchange a complete mixer. In many cases, the scale hopper and gate above the mixer must have a way and room to set it aside to access the mixer. This can be a major project. Another way to solve this problem would be to design the mixer location so the mixer might be removed longways, without disturbing the scale system.
Other things to consider in original installation include allowing room for access doors, such as room to allow the pellet mill door to be fully opened for die changes and adjustment access. Room should also be provided so that the conditioner and feeder above the pellet mill can be accessed and even exchanged if needed.
Always allow room to access and work on conveying equipment. Never install a bucket elevator next to a wall where removing the boot or head shafts or pulleys cannot be removed from both sides of the elevator. Always allow space to remove shafts, bearings, gear reducers, motors and drive components from any equipment. Good maintenance requires good access to each piece of equipment. Money spent in good design will pay dividends in maintaining the facility.
A consideration in the selection of equipment is, when possible, to try to use a single brand of motors, gear reducers and other common parts to simplify maintenance and reduce the amount of parts needed For drives with varying horsepower but identical output speeds, use the same size of sheaves (pulleys), and v-belts may be used for all the drives. If the needed output speed is the same, v-belt drives with added grooves and belts can be used as the horsepower increases. A possible application for this might be the drives on screw feeders feeding above a batching scale.
Drives with v-belt drives require regular preventive maintenance to make sure the belts are tensioned properly to avoid slipping. Properly installed safety devices should detect changes in speed and warn. An alternative to a v-belt drive is a newer type of gear reducer, such as a Dodge MTA (Motorized Torque Arm) reducer, which is available with a wide range of internal gearing ratios for numerous output speeds. Using this type of gear reducer, the moto is directly coupled to the reducer, which eliminates the use of a v-belt drive. We used this type of dive on our bucket elevators for the O.H. Kruse Feed Technology Center at Kansas State University.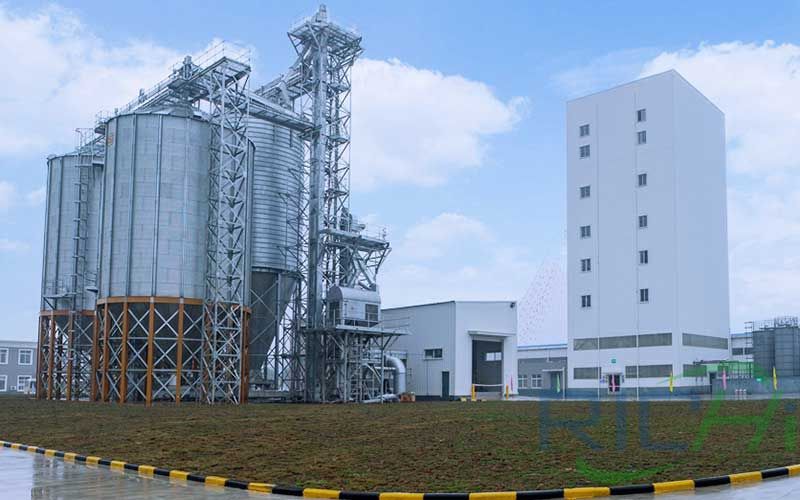 New feed factory construction skills
Completing the project
The next step, known as "substantial completion," is when the project is sufficiently completed that the owner may start using the project and making the product(s) for which the facility is designed. It does not mean the project is complete as there are other things that need to be done such as painting, building completion, ancillary lighting, signage, access drives and walks. When these unfinished items are completed, the contractor will ask for an initial final inspection. This inspection for project completion of the contract is a walkthrough of the facility by the owner or his designee and the contractor. From this walkthrough, a "punch list" is made noting everything that still needs to be completed to fulfill the contract. In some instances, additional walkthroughs and punch lists revisions may be necessary until everything is done. Once these things are done, the contractor may apply for and is due the final payment for the project.
One statement on the contract shall require the contractor to provide at least two complete sets of all equipment installation and operating manuals. This information should also note recommended maintenance for each piece of equipment and a recommendation of spare parts inventory that should be kept on hand.
All contracts should include a warranty that covers all things included in the contract. This would include all materials and labor to repair or replace anything that fails. In most cases, the warranty is for the first year of operation of the facility. The question is, when does the warranty go into effect? Does it start at substantial completion or when the contract is complete and the final payment made? Make sure the warranty is on the contractor and his work. Watch out for limited warranties that do not fully cover the project for the full warranty period. Make sure the warranty is not limited to the warranty an equipment manufacturer makes on their equipment.
An example might be an electric motor installed on a piece of equipment. The motor manufacturer's warranty may be for a year, but that warranty goes into effect when the equipment manufacturer buys the motor. The motor might be in the equipment manufacturer's inventory for several months before it is installed on the equipment and the piece of equipment is sold for the project. This could make the warranty at time of installation in the facility very short or voided due to time from initial purchase until sold and installed in the project.
All equipment systems should be in operating condition at the time of the final payment. A plan for maintenance of the equipment should be established and in place at the time final payment is made. Every piece of equipment and its components should have an identifying number attached to or associated with this equipment. The original process flow diagram for the facility should identify each piece of equipment numerically. From this an equipment list with identifying numbers for each piece of equipment is made. This list becomes the starting point for developing maintenance records. It also is used to develop a preventive maintenance program.
Initially, a preventive maintenance program can be created using suggestions from manufacturers with recommendations on maintenance intervals. It is better to create initial maintenance service intervals and then adjust them as conditions dictate. As the facility continues operations, points of breakdown or repair intervals will help determine the intervals needed for preventive maintenance and what work is needed. As I have stated before, it is estimated that each dollar spent on preventive maintenance will save $5 on unscheduled breakdowns.
An accurate record of maintenance performed on each piece of equipment must be created each time maintenance is required. A separate work order should be created for every maintenance activity showing the date and piece of equipment for which the maintenance was required. This work order must include the equipment number, the date the work is performed, the name(s) of those making the repairs, a description of the work and the parts required for the repair. From these records, a history of required types of repairs made, parts used, repair time and frequency of repairs may be created. This will help identify if these types of breakdowns should be added to the preventive maintenance schedules.
A good maintenance record system will identify what types and quantities of parts should be kept on hand at the facility. In some cases, a parts supplier will keep certain larger items such as motors or gear reducers in their stock locally, so they are readily available but not kept in plant inventory. That way, the facility doesn't pay for these items until needed. A good maintenance plan is never finished, but regularly adjusted to avoid breakdowns and lost production time.
The above is the article for you: New feed factory construction skills. If you are interested in our products or project solutions, please contact us. We will give you the best product quality and the best price. Email: enquiry@pellet-richi.com
SEND INQUIRY
Here you can submit any questions and we will get back to you as soon as possible. We will not disclose the information you submit to anyone, please rest assured.
Copyright© 2022 Richi Machinery. All rights reserved. Site Map