Quotation Of Floating Fish Feed Extruder
Date: 07/17/2020 08:38:04 From: feed-pellet-plant.com Clicks:
Kindly Reminder:
If you are interested in our products, Please get in contact with us
Floating fish feed extruder is a machine specially made for fish pellet feed. If you want to produce fish feed pellets, then fish feed extruder is an essential equipment. What is the price of fish feed extruder? One is to look at output, and the other is to look at configuration. Tell us the output and budget you need, Richi Mechanical engineers will customize the right solution for you for free!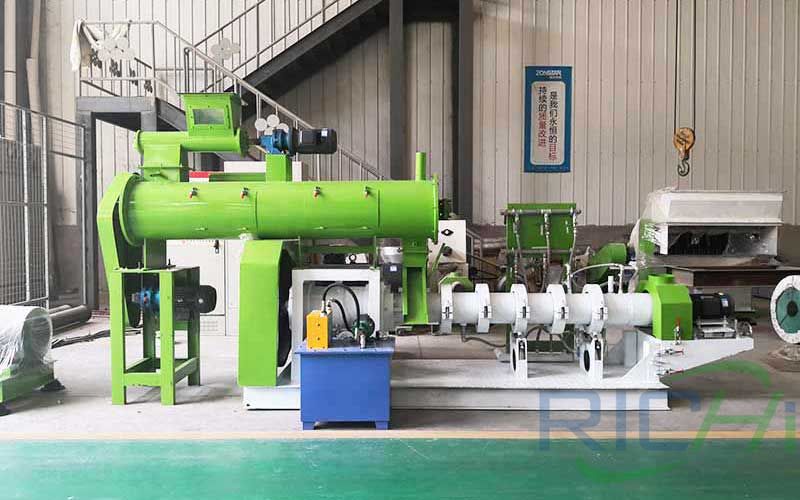 Floating Fish Feed Extruder
Currently, the main extrusion equipment applied in aquatic feed production is single screw fish feed extruder which is also divided into dry type fish feed extruder and wet type fish feed extruder machine. The differences and features of the dry type and wet type pellet feed extruder:
1. Dry type fish feed extruder does not need the steam boiler while the wet type is with the conditioner and need to equip the steam boiler. So the dry type fish feed pellet extruder machine is cheaper and easier to use and operate
2. The feed pellet made by wet type fish feed pellet machine is more smooth and with better quality because the material is ripen and mixed enough in the conditioner compared with the dry type extruder.
3. The capacity of the wet type is higher than the dry type feed pellet extruding machine, so usually the wet type fish feed extrusiong machine is suitable for large feed pellet factory while the dry type fish feed pellet machine is better and economic for the small and medium size user or factory.
II.Raw Material for Making Fish Feed
Fish needs some extra feeds along with available natural feeds in water for their regular growth. This extra feeds which are provided to fish is called supplementary feed of fish. The ingredients of supplementary feed for fish are below:
Rice bran
Refined pulse and wheat roughage
Mustard or sesame cake
Fish-meal (fish powder)
Crop grain
Silk kit meal
Blood and innards of bird or animal
Green leaves of various vegetables
Minerals and vitamins
Kitchen leftovers
Maize powder and refined chaff
Dried molasses etc.
III.Why Choose Extruder for Aquatic Feed Production?
The production of feeds for aquaculture has several challenges: the feed must be water stable, have high conversion rates while ensuring a low ecological impact. For these reasons extrusion technology is the best choice for the production of aquaculture feeds. Then what is extrusion? Feed at environment of high temperature (110-200 °C) and high pressure (25 to l00kg/cm2) and high shear force, high moisture (10% 20% or even 30%), through continuous mixing, conditioning, heating, pressure, curing, extrusion die and sudden depressurization formed a bulk porous feed pellets.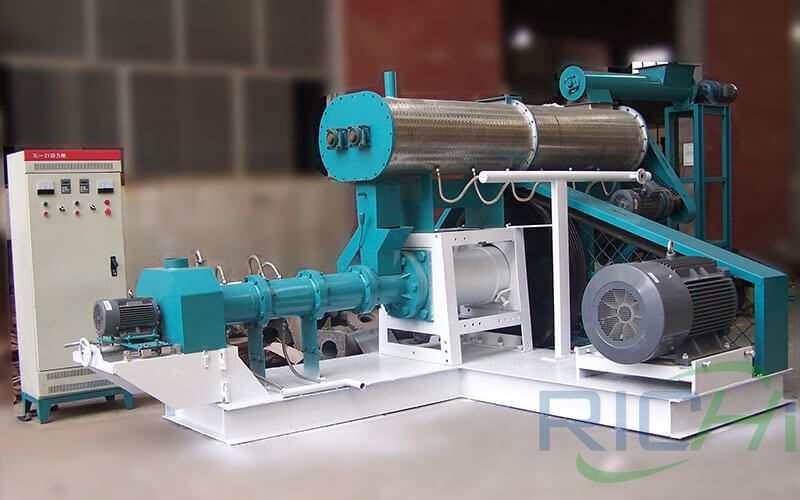 Why Choose Extruder for Aquatic Feed Production
IV.Floating Fish Feed Extruder Features
1.Simple structure, widely used, small flooring space, low noise.
2.Different moulds can be chosen to make pellets with different diameters and shapes.
3.The floating pelletized feed produced can float on the surface of the water for at least 12 hours without blistering.
4.Generally, puffed floating fish feed is used to save 8%-15% of feed compared to powdered or granular feed.
5.Fish and poultry prefer to digest, and the artificial frog can easily observe the food consumption of the frog fish without causing waste of feed.
6.This fish feed pellet extruder also applies to make pellet feed for rabbits, ducks and the like. What's more, the pellet feed is more economical than the compound mash feed.
7.There are many different press molds you can choose in according to the size of the pellet that you.
V.Floating Fish Feed Extruder Parameter
DSP Wet Type Fish Feed Extruder Parameter
Model
Capacity(t/h)
Main motor power(kw)
Feeder power(kw)
Screw diameter(mm)
Cutter power(kw)
Conditioner power(kw)
DSP60-B
0.18-0.2
15
0.4
Φ60
0.4
0.75
DSP70-B
0.25-0.30
18.5
0.6
Φ70
0.6
0.75
DSP80-B
0.35-0.40
22
1.1
Φ80
0.8
1.1-1.5
DSP90-B
0.50-0.60
37
1.1
Φ90
1.1
2.2
DSP120-B
0.70-0.80
55
1.1
Φ120
1.5
2.2-3.0
DSP135-B
1.0-1.2
75
1.5
Φ135
2.2
3.0-4.0
DSP160-B
1.8-2.0
90
2.2
Φ155
2.2-3.0
4.0-5.5
DSP200-B
3.0-4.0
132
2.2
Φ195
3.0-4.0
5.5
DSP200-B
3.0-4.0
132
2.2
Φ195
3.0-4.0
5.5
The above is the article for you: Quotation Of Floating Fish Feed Extruder. If you are interested in our products or project solutions, please contact us. We will give you the best product quality and the best price. Email: enquiry@pellet-richi.com
SEND INQUIRY
Here you can submit any questions and we will get back to you as soon as possible. We will not disclose the information you submit to anyone, please rest assured.
Copyright© 2022 Richi Machinery. All rights reserved. Site Map