Feed Mill Dairy Cow Feed Pellet Production Line Process
Date: 10/23/2020 08:35:56 From: feed-pellet-plant.com Clicks:
Kindly Reminder:
If you are interested in our products, Please get in contact with us
Which companies will produce cattle feed pellets? Large-scale cattle farms and feed factories. Large-scale cattle farms purchase equipment to produce cattle feed pellets by themselves, which can greatly reduce the cost of cattle feed. Of course, large feed mills are for profit. What is the process of the cattle feed pellet production line in the feed factory? How does the dairy cow feed pellet production line produce feed pellets? Let's learn together.
Dairy cows (also called milk cows) are bred for the ability to produce large quantities of milk, from which dairy products are made. This means feed in high calcium, phosphorus, protein and energy will both help produce high-quality milk and keep cows in good health. However, traditional feed can no longer meet the feed requirements. Feed pellet, the healthier and more nutritious feeding material, has gradually displaced traditional forage. It can be made scientifically by a formulated ration, which best suit cows' needs when cows are producing milk. With feed pellets, dairy farmers can optimize dairy production to maintain their desired level of profitability!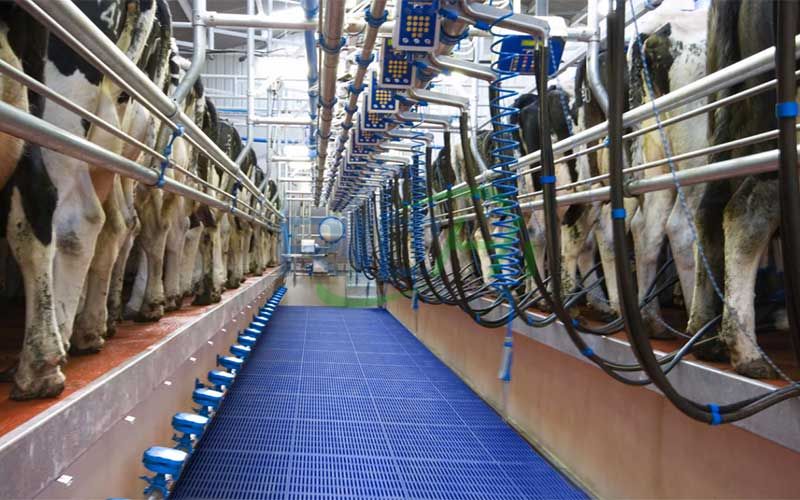 Dairy Cow farm
Raw materials for making dairy cow feed pellets
1. Cereals: maize, barley, oat, wheat, triticale, rye and sorghum
2. Seed from legumes: broad beans, field bean and protein pea
3. Seed from oleaginous crops: soy, flax, and sunflower
4. Forage: flours of permitted forage essences
5. Dried beet pulp.
Feed Mill Cattle Feed Pellet Production Line Process
Feed hammer mill →feed mixer → feed pellet mill → counterflow cooler → feed pellets crumbler → feed pellets grading sieve → automatic weighing and packing machine.
1. Grinding: crush raw materials by feed hammer mill to get fine grinded ingredients.
2. Mixing:all of the ingredients are mixed in a feed pellet blender for a period of time to get a uniform mix. Then a moist, cohesive mash was obtained at end of the final mixing.
3. Pelletizing: after mixing, the mash was delivered to the pellet mill feeder. It is fed into the feed pellet mill and then to the roller and die extruder. (Note: flat die feed pellet mill better for home use and ring die feed pellet mill for cow feed factory.) When the mash is compacted through the die, soft, moist pellets were formed. The extruded pellets have a moisture content of 16-17%.
4. Drying: the wet pellets are dried in a feed pellet cooler to obtain moisture content below 12%.
5. Packaging: pack the produced cattle feed pellets through a packaging machine
Advantages of dairy cow feed pellets
Besides easy storage and cost less, the advantages of pelletizing also include the following aspects:
1. Quality assured: ingredients to be targeted directly at your requirements and ensure the accuracy of each ingredient time after time. (additives can be added uniformly if necessary)
2. Nutritionally balanced ration: meets the protein, energy and mineral requirements for optimum growth and feed conversion
3. High energy: rapid weight gain and efficient feed conversion
4. Low dust: reduced inhalation of dust by people and cows which makes a safer, healthier and more pleasant work place.
5. No ingredient separation: even nutrient blend received by cows
6. No further processing required: pellets are ready for consumption; no extra labor to roll or mix rations.
7. In addition, for ring die feed pellet mill there is steam processing for ingredients. Better starch utilization: up to 15% more and increased milk production per kilo of feed.
8. automatic packing machine and other equipment, It's one set full automatic contral system.
5-6T/H Cattle Feed+10T/H Chicken Feed Pellet Production Line Export To Saudi Arabia
Name: Alfalfa Feed Pellet Production Line
Country: Saudi Arabia
Capacity: 5-6T/H Cattle Feed+10T/H Chicken Feed
Date: March 30th,2018
Installation cycle: 60 Days
Feed Pellet Size: 1-2mm pellet
Workshop size(L*W*H):16m*8m*12m
Main Raw material:grass, alfalfa , corn, soybean meal
Main Machines List:1.feed hammer mill*90KW; 2. feed mixer*3500kg/batch; 3. feed pellet machine*160kw; 4. cooling machine; 5.crumbler machine; 6. screen machine;
If your team is going to build a cattle feed pellet production line, the advantage of choosing us is that RICHi will help you:
1. Determine the scale of cattle feed mill.
2. Determine the feed process and recommend cattle feed machine.
3. Control mode selection.
4. Cattle feed manufacturing plant structure selection.
5. Planning the general drawing of cattle feed mill plant site.
6. We devote ourselves to undertaking all cattle feed production line 1-20T/H.
The above is the article for you: Feed Mill Dairy Cow Feed Pellet Production Line Process. If you are interested in our products or project solutions, please contact us. We will give you the best product quality and the best price. Email: enquiry@pellet-richi.com
SEND INQUIRY
Here you can submit any questions and we will get back to you as soon as possible. We will not disclose the information you submit to anyone, please rest assured.
Copyright© 2022 Richi Machinery. All rights reserved. Site Map