Feeding System of Hammer Mill - Feed Pellet Mechanical Engineering
Date: 11/02/2020 08:57:58 From: feed-pellet-plant.com Clicks:
Kindly Reminder:
If you are interested in our products, Please get in contact with us
Hammer mills are among the most common mill types for many applications in the grinding of grain or other biomass raw materials, for example in the production of animal feed or in the food industry. Hammer mills are one of the indispensable equipment in the animal feed pellet production line. The feeding system of hammer mill directly affects the production capacity of the feed mill.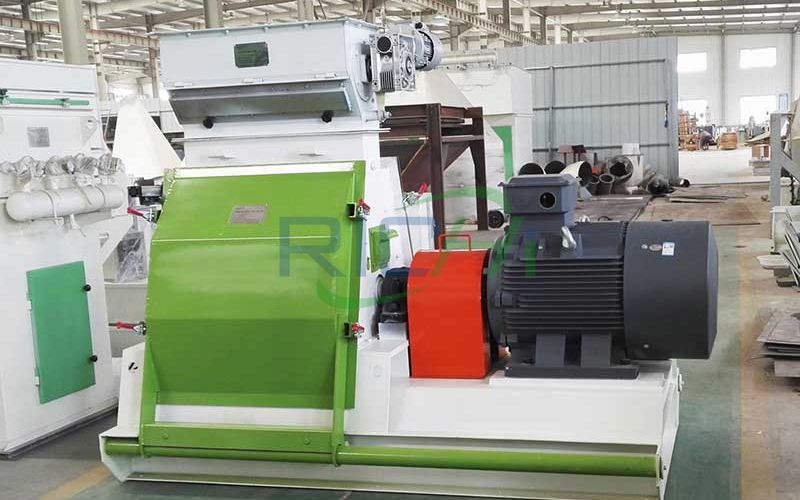 SFSP Fine-Grinding Hammer Mill
Tasks of the Feeding System
The feeding system for a hammer mill essentially has four important tasks to fulfil:
1. Distribution of the feed material: The distributed feed of the product over the entire width of the hammer mill has a significant influence on the grinding process, because only in this way the existing impact and screen surface of a hammer mill can be fully utilised. In addition, wear is reduced because the screens and beaters are worn more evenly. An even distribution also leads to an energy-efficient use of the mill's drive power.
2. Adaptation to product properties: Particularly in product mixtures (e.g. in the post-grinding of animal feed), products that are heavier and easier to grind (e.g. barley and corn) may be present as individual layers in the premix. The feeding system has the task of adjusting the throughput capacity of the mill to the product present in the mixture, so that the mill is always operated at its optimum operating point. For this purpose, the load of the mill motor is monitored and the conveying capacity of the feeding device is controlled on the basis of the motor current (load-dependent dosing).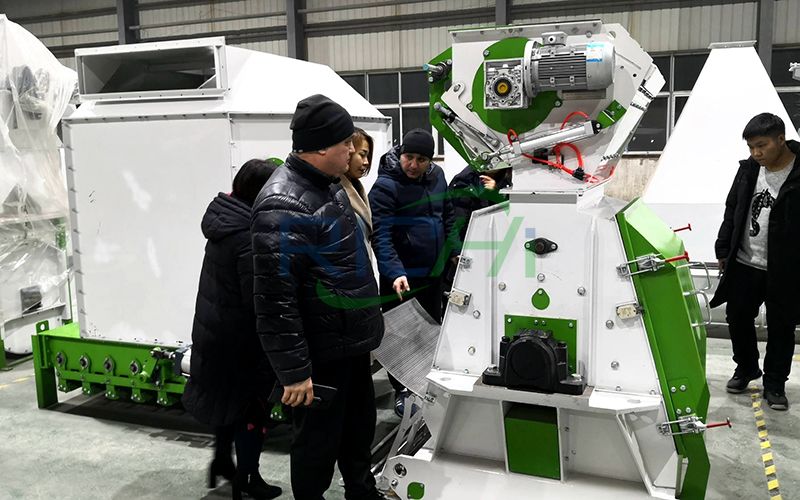 Customers visit sfsp hammer mill
3. Separation of impurities: Due to harvesting, handling, storage, etc., the raw material may contain impurities such as metal parts or stones, which can lead to considerable damage if they get into the mill (e.g. sieve breakage). Contact of foreign matters with the rapidly rotating components of the mill can also lead to sparking and, associated with this, to a risk of fires and explosions. The feeding equipment therefore has the task of reliably separating foreign parts in front of the mill.
4. Aspiration air intake: In addition to charging the mill with the material to be ground, feeding systems are usually also used to supply the aspiration air required for the grinding process. According to European ATEX guidelines, in the event of an explosion, this air intake opening must be designed in such a way that there is no risk of human life being endangered by escaping pressure shocks and/or flames. In addition, whirled up dust could lead to secondary explosions.
Henan Richi machinery SFSP-series fine grain hammer mill is suitable for corn, soybean, sorghum, wheat, beans, grain grinding, Especially suitable for the pulverization of baby pig, fish feed, poultry and livestock Feed. It's widly used in animal feed processing, brewing, chemical and biological industry.Grain crushing machine, feed crusher for sale factory price is attractive.In addition, The machine structure is simple, fastening durable, safe, reliable with easy installation and simple operation.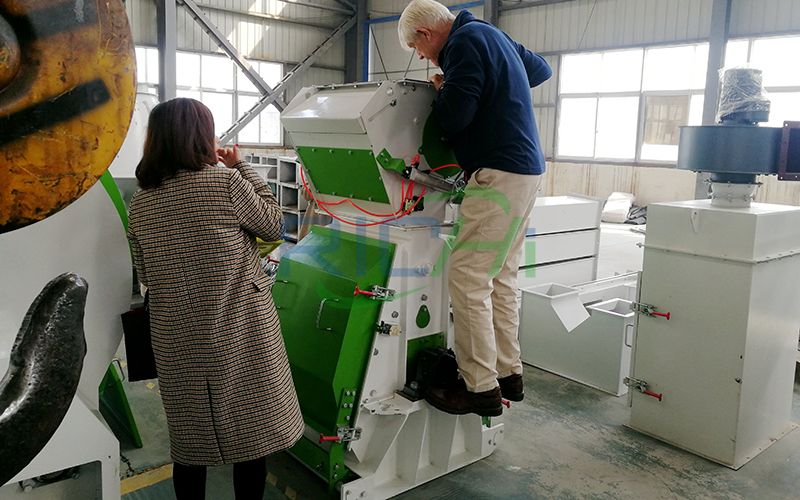 Richi Machinery SFSP Hammer Mill
SFSP Hammer Mill Parameter
| | | | | | | | | | |
| --- | --- | --- | --- | --- | --- | --- | --- | --- | --- |
| Model | SFSP56*40a | SFSP56*40b | SFSP66*60a | SFSP66*60b | SFSP66*80a | SFSP66*80b | SFSP66*100 | SFSP138*30E | SFSP138*40E |
| Power | 30kw | 37kw | 55kw | 75kw | 90kw | 110kw | 132kw | 110/132kw | 132/160kw |
| Capacity | 3-5T/H | 4-6T/H | 5-8T/H | 6-9T/H | 8-10T/H | 10-13T/H | 12-16T/H | 15-20T/H | 18-25T/H |
| Speed | 2980r/min | 2980r/min | 2980r/min | 2980r/min | 2980r/min | 2980r/min | 2980r/min | 1440r/min | 1440r/min |
If you are interested in our products or project solutions, please contact us. We will give you the best product quality and the best price. Email: sales@cnrichi.cn
SEND INQUIRY
Here you can submit any questions and we will get back to you as soon as possible. We will not disclose the information you submit to anyone, please rest assured.
Copyright© 2020 Richi Machinery. All rights reserved. Site Map