Large-scale Commercial Feed Factory Cattle Cow Feed Pellet Machine and Dairy Cow Feed Formula
Date: 02/12/2021 08:53:13 From: feed-pellet-plant.com Clicks:
Kindly Reminder:
If you are interested in our products, Please get in contact with us
For large-scale commercial dairy cattle feed factories, not only high-quality and large-volume cattle feed pellet machines are needed, but if there is a good dairy cattle feed formula, it will be the icing on the cake and even better. Scientific cattle feed formula can not only make cattle produce more milk, but also reduce disease. The high-quality, long-life, and CE-certified cattle feed pellet machine is the key to the profitability of the feed factory. Let's take a look at the large-scale commercial feed factory cattle feed pellet machine and dairy cattle feed formula.
I. Cow Feed Pellet Machine
Cattle feed pellet machine has ring die pellet machine and flat die pellet machine according to the output. Richi Machinery, as a well-known Chinese pellet machine manufacturer, produces both types of production, but mainly focuses on the production of ring die pellet machines. Cattle/Sheep Feed Pellet Machine are used to make Cattle feed pellets. These are a kind of compound feed and mainly made from various raw materials such as, cereals, seed from oleaginous crops and legumes, forage and dried beet pulp and additives, such as , vitamins, minerals, chemical preservatives and other essential micro-ingredients.Pelleted type of feed can be digested well and improve the performance of cattle.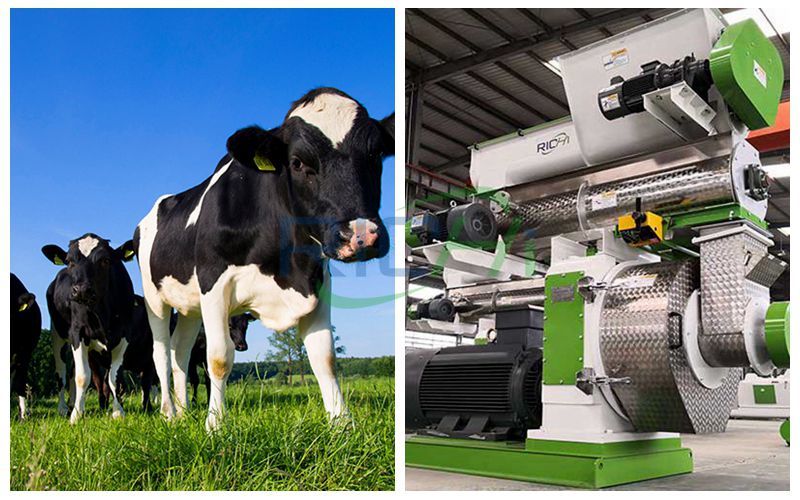 Cattle Cow Feed Pellet Machine
1. Dairy Cattle Feed Pellet Machine Parameter Model
| | | | | | | |
| --- | --- | --- | --- | --- | --- | --- |
| Model | Capacity(TPH) | Main Motor Power(kw) | Feeder Motor Power(kw) | Conditioner Power(kw) | Dia.of Ring Die(mm) | Final Pellet(mm) |
| SZLH250 | 1-2 | 22 | 0.75 | 1.5 | 250 | 2~12 |
| SZLH320 | 3-4 | 37 | 1.5 | 2.2 | 320 | 2~12 |
| SZLH350 | 5-7 | 55 | 1.5 | 3 | 350 | 2~12 |
| SZLH420 | 8-12 | 110 | 1.5 | 7.5 | 420 | 2~12 |
| SZLH508 | 10-18 | 160 | 2.2 | 11 | 508 | 2~12 |
| SZLH558 | 15-25 | 180/200 | 2.2 | 11 | 558 | 2~12 |
| SZLH558D | 14-22 | 160/180/200 | 1.5 | 7.5 | 558 | 2~18 |
| SZLH678 | 20-30 | 220/250 | 2.2 | 11 | 678 | 2~12 |
| SZLH678D | 15-25 | 200/220/250 | 2.2 | 11 | 673 | 2~18 |
| SZLH768 | 25-40 | 280/315 | 2.2 | 11 | 768 | 2~12 |
| SLZH858 | 25-42 | 280/315 | 2.2 | 15 | 858 | 2~18 |
2. Advantages of Using Cattle Feed Pellet Machine
Avoid picky eating of animals. Cattle feed formula has a variety of raw materials, comprehensive nutrition, it can prevent animal selection of its favorite to eat from the powder, refused to eat other ingredients. Because the pellet feed can maintain homogeneity in the process of storage and feeding, the loss of feeding can reduce about 8%~10%.
Kill salmonella in animal feed. Salmonella remains in animal tissues when ingested by animals, and people who eat animals infected with the bacteria can develop salmonella gastroenteritis. The method of steam high-temperature quenching, tempering, and granulating can kill salmonella in cattle animal feed.
Storage and transportation are more economical. After pelletization, the bulk density of cattle feed will generally increase about 40-100%, which can reduce the storage capacity and save transportation costs.
A high feed rate of return. In the cattle feed pelletizing process, due to the comprehensive effect of water, temperature, and pressure, some physicochemical reactions occur in the cattle feed, then making the starch gelatinize and the activity of the enzyme enhanced. Which can make the cattle animals digest the cattle feed more effectively and then convert it into weight gain.
Avoid the automatic classification of cattle feed components and reduce environmental pollution. In the process of storage and transportation of powder due to the different volumes and quality of the powder, it is easy to produce classification. There is no classification of cattle feed components after making pellets, otherwise, the cattle pellets are not easy to dust, air and water pollution is less than the powder in the process of feeding pellets.
Good liquidity and easy to manage. Many powders, especially the small gravity of the pile feed, add molasses or high fat and urea feed often adhere to the material house. Cattle pellet feed is most popular on large-scale dairy cattle farms with automated feeders because it is highly mobile and rarely adheres.
II. Precautions for Dairy Cow Feed Formula
1. Calf nutrition formula
1) The nutritional needs of calves. On the 7th day after birth, start to replenish grass and train calves to eat grass by means of grass racks and hanging handles so that they can eat high-quality green hay freely. The calf starts to add concentrate on the 10th day after delivery. The specific formula: cornmeal 40%, bean cake 30%, bran 27%, salt, bone meal, and auxin each 1%, 10-30 days old concentrate dosage does not exceed 0.5 kg /Day, 0.75 kg/day of concentrate for 31-60 days, 1.5 kg/day after 6 months of age.
2) The nutritional needs of growing cows. The feeding amount of concentrated feed is 1-1.5 kg/day before the first birthday, 2-3 kg/day after the first birthday, 14-16 kg/day for silage and root feed, and 4-6 kg/day for hay.
3) The nutritional needs of young cattle. During this period, good quality roughage should be given (a limited amount of silage), and the standard for the amount of concentrated feed is 3-3.5 kg/day. In particular, it is necessary to increase the reserves of vitamin A, calcium and phosphorus. If the body condition is poor, the amount of concentrate input can be appropriately increased under normal digestion. It can be gradually increased to 4-7 kg/day 2-3 months before delivery to meet the needs of feeding a large amount of concentrate after delivery, but it should not be overweight.
2. Adult cow nutrition
1) The perinatal period. The feed is diversified, and more high-quality hay is fed, and some laxative feed is added. The amount of concentrated feed is 2-2.5 kg/day. Don't give too much concentrate and juicy food when breasts are swollen before delivery. At this time, feeding silage is prohibited. The amount of salt should be reduced to 25-50 grams per day. Do free exercises for 2 hours a day.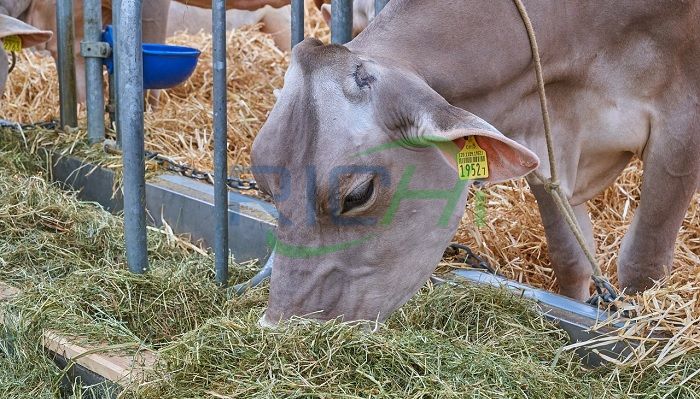 Cow cattle eating hay
Give the cow a bran brine soup within half an hour after delivery (1 kg bran, 100 g salt, 10 kg water, and 300 g brown sugar). The temperature is 30-40°C. If the cow is very thirsty, increase the number of drinking water.
After 2-3 days of childbirth, gradually increase the concentrate, using the method of adding every other day, and increase the amount of concentrate between 0.5-1 kg each time, until the amount of concentrated milk does not rise and there is indigestion.
2), the prime of lactation. The general feeding principle is: mainly silage, green and root feed, and not too much concentrate, otherwise it will affect the health and breeding of the cow.
The diet adopts a combination of high energy (corn, silage, high-quality hay) and appropriate amount of protein (bean cake, concentrated feed). The normal concentrate input amount is 2 kg/day for the base material, and 1 kg of concentrate for every 2.5-3 kg of milk produced. The general feeding standard is that the daily production of 20 kg of milk is 7-8.5 kg/day, and the daily production of milk is 30 kg. The feeding rate is 8.5-10 kg/day, and the daily milk production is 40 kg and 10-12 kg/day.
3) Mid-lactation. Milk production gradually decreases, and the normal decline is 5-7%. At this time, the cow has a strong appetite to supplement the negative nutritional balance that occurred in the previous period of lactation. Continue to use full-price compound feed to feed, while gradually reducing the amount of concentrate based on milk production.
4), late lactation. The feeding principle is to add 1 kg of concentrate for every 2.5 kg of fresh milk produced, plus 2 kg of base material. On this basis, increase the feeding standard by 10-20%, so that the cows can gradually recover their weight as soon as possible, but the cows should not be overweight. Next milk production. The normal feeding amount is 5-6 kg/day. The formula is the same as in mid-lactation. The ratio of roughage in the diet should be higher, 55-60%, 15 kg/day of silage, and about 10 kg of hay.
5), dry milk period. The feed is diversified, drinking water is sufficient, and the amount of concentrate feed is 3-4 kg/day.
The above is the article for you: Large-scale Commercial Feed Factory Cattle Cow Feed Pellet Machine and Dairy Cow Feed Formula. If you are interested in our products or project solutions, please contact us. We will give you the best product quality and the best price. Email: sales@cnrichi.cn
SEND INQUIRY
Here you can submit any questions and we will get back to you as soon as possible. We will not disclose the information you submit to anyone, please rest assured.
Copyright© 2020 Richi Machinery. All rights reserved. Site Map