What are the characteristics of RICHI machinery's feed extruder
Date: 04/15/2020 09:09:18 From: feed-pellet-plant.com Clicks:
Kindly Reminder:
If you are interested in our products, Please get in contact with us
Feed extruder is a kind of extruder, which is mainly used for food extrusion, livestock and poultry feed or for extruding a single raw material. It can also be used as the pretreatment of raw materials in the production of vegetable oil and drinking wine. This series of dry and wet puffing machines are suitable for large, medium and small feeding farms, feed factories and food factories.
Functional characteristics
1. The machine has novel design, compact structure and high production efficiency.
2. Reliable, durable, low failure rate, easy operation and maintenance.
3. Easy to use, smooth transmission and low noise.
4. Major components are made of special alloy material by heat treatment, which has a long service life. Only a few domestic manufacturers adopt special wear-resistant alloy precision casting. Although it is 2-3 times higher than conventional materials, the overall production cost is greatly reduced. Generally, factories that have designed and manufactured extruders for more than 10 years are relatively reliable.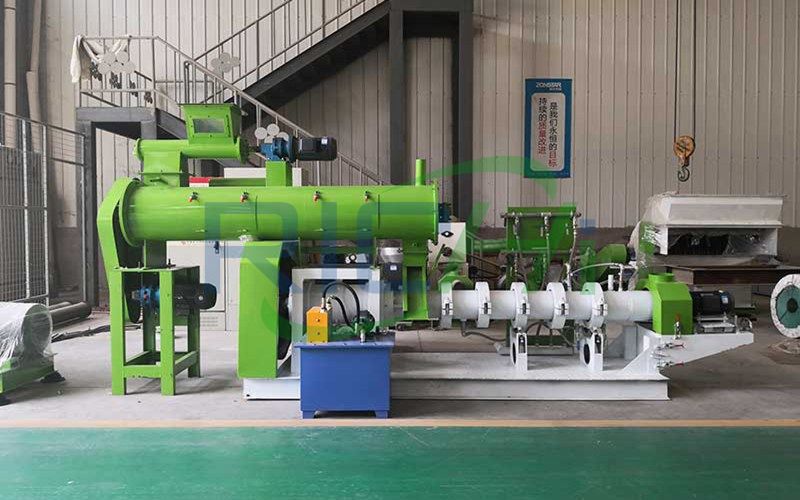 What are the characteristics of RICHI machinery's feed extruder
5. Dry puffing process, using self-heating mode, does not need steam system, more in line with the actual needs of users.
6. Screw design has powerful self-cleaning function. Screw groove can be purified by itself. Therefore, when changing formula and product variety, there is no need to stop cleaning. Screw has strong pumping function, strong material contamination and diffusion effect, faster speed of promotion, and relatively stable product quality.
7. The screw outlet nozzle adopts modular design, which is easy to adjust and cheap.
8. It can be equipped with automatic feeding system. The feeder is a horizontal conveying screw controlled by the world's newest switched reluctance speed regulating motor. The other end is connected with the extruder. The output of extrusion can be controlled by adjusting the feeding amount (quantitative feeding, and effective prevention of material arching).
9. Cutting system, independent cutting device and the body are easy to connect, fast, variable speed cutting tool head, can easily adjust the cutter, can conveniently adjust the clearance between the cutter and the template, according to the need can be prepared different templates, ensure the required diameter and length, and produce different specifications and shapes of products.
10. Processing floatable feed does not require adhesives and can maintain stability in water for more than 2 hours.
11. Round products with machinability of 1-20mm (template customized as required).
12. The spindle is a combination structure. The spare extension shaft can be used for extrusion processing of different raw materials.
13. Small and medium-sized equipment is especially suitable for scientific research institutions, special farms or small and medium-sized feed factories.
14. Dry-wet dual-purpose, in the single-screw extruding equipment more than 30KW can be added conditioner wet extruding, and both have the ability of dry-wet dual-purpose.
The above is the article for you: What are the characteristics of RICHI machinery's feed extruder. If you are interested in our products or project solutions, please contact us. We will give you the best product quality and the best price. Email: enquiry@pellet-richi.com
SEND INQUIRY
Here you can submit any questions and we will get back to you as soon as possible. We will not disclose the information you submit to anyone, please rest assured.
Copyright© 2022 Richi Machinery. All rights reserved. Site Map