Papua New Guinea feed pellet production line delivery site
Date: 05/11/2020 08:44:03 From: feed-pellet-plant.com Clicks:
Kindly Reminder:
If you are interested in our products, Please get in contact with us
The customer is from Papua New Guinea, he bought a set of animal feed pellet production line equipment in our factory in 2016,. Here are photos taken at the time of shipment. If you are near Papua New Guinea, you can visit the factory. If you are also preparing for an animal feed pellet production line, please tell us your output and budget, we will provide you with a suitable plan and quotation for free!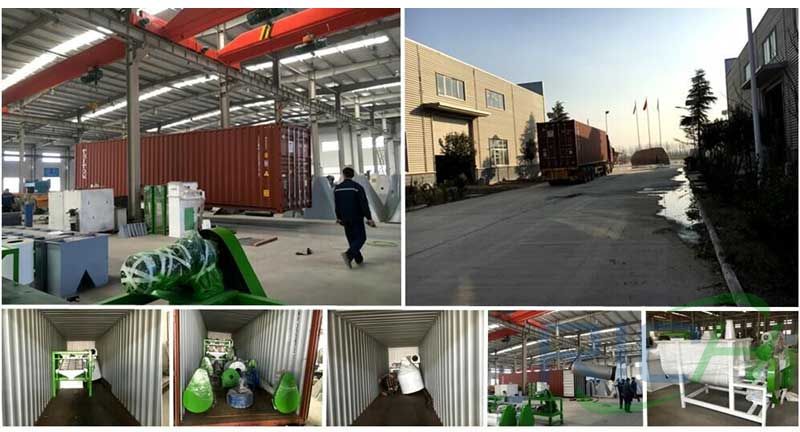 Papua New Guinea
Feed Pellets Processing Technology
Raw Material → Feed Grinding → Feed Mixing → Feed Pelletizing → Pellet Cooling → Pellet Crushing → Screening & Grading → Pellet Packing
Advantages of Feed Pellets
1. Decreased ingredient segregation
2. Decreased feed wastage
3. Easy storage and transportation
4. Improved palatability
5. Reduced selective feeding
6. Destruction of pathogenic organisms
Intensive production of animal feed pellets is of urgent need due to the prosperous breeding industry. Dedicated to providing animal feed pelletizing solutions for 25 years, Richi Machinery is ready to make perfect project for any scale feed pellet plant. The feed pellet production line can be used to make various poultry feed and aquatic feed for rabbits, ducks, cattle, chickens, sheep, pigs, pigeons, fishes and shrimp etc. The whole production line can be control by the automatic PLC control system.
The above is the article for you: Papua New Guinea feed pellet production line delivery site. If you are interested in our products or project solutions, please contact us. We will give you the best product quality and the best price. Email: enquiry@pellet-richi.com
SEND INQUIRY
Here you can submit any questions and we will get back to you as soon as possible. We will not disclose the information you submit to anyone, please rest assured.
Copyright© 2022 Richi Machinery. All rights reserved. Site Map