Turnkey Project of 1-2t/h Alfalfa Pellet Line for Cattle Farm
Date: 09/30/2020 08:49:36 From: feed-pellet-plant.com Clicks:
Kindly Reminder:
If you are interested in our products, Please get in contact with us
Alfalfa pellets are popular in cattle farms, horse farms and sheep farms. As dairy producers who have primarily used grass forages realize the economic value of quality alfalfa in their feeding programs, they will utilize more of it on their farms. Alfalfa hay or silage can be fed free choice throughout the year. Lower feed bills and higher milk production are the primary reasons alfalfa is used on dairy farms.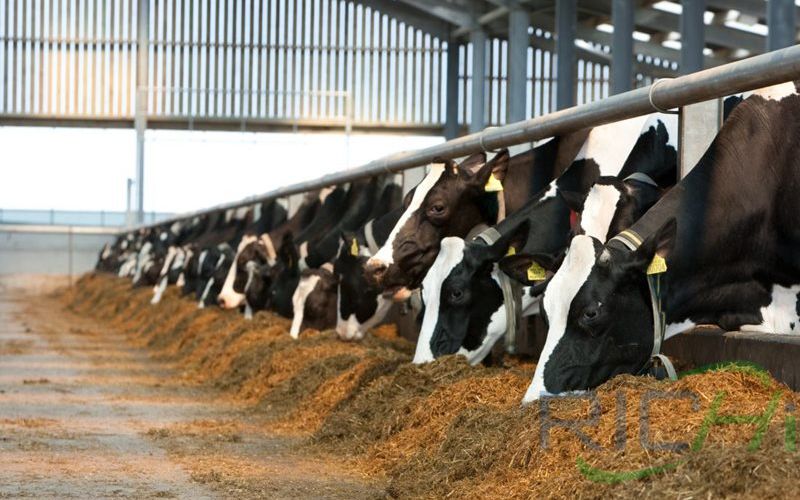 Cattle Farm
Turnkey Project of 1-2t/h Alfalfa Pellet Line
The process of alfalfa pellet manufacturing was first developed for the livestock feed industry. It can be said to consist of a few basic sub-processes: grinding of alfalfa grass, drying, pelletizing and cooling.
The raw alfalfa grass is first freed from heavy contaminant (rocks, metals and other foreign material), and then grinded in a hammer mill or a chipping machine. The particle size is adjusted to a uniform maximum dimension, which is approximately 85 % or less of the minimum thickness of the pellet to be produced. The often high moisture content of raw alfalfa makes drying necessary. The product from the hammer mill is therefore transported to a dryer (generally a rotary drum type one) where the moisture content of the uniformly dimensioned particles is reduced to about 10 % (w.b.).
Then, alfalfa particles can be conditioned, i.e. steam or organic binding agents can be added (according to legal specifications). After conditioning, the particles are then moved by conveyor to a pellet mill, where the pellets are extruded through the action of rollers acting on a perforated matrix. On the outer side of the latter, a knife cut off the pellets at the desired length. Residual moisture in the feedstock turns to steam during compression and helps lubricate the compression die. After extrusion, alfalfa pellets are very hot (90-100°C) and are immediately air quenched down to 25°C. This sets up the lignin and hardens the product, and contributes to maintain its quality during storage and handling.
Finally it is screened, so as to separate the residual fines which are generally re-used in the process. Dust free alflafa pellets are then ready for storage (in a silo) or for automatic packing (in 25 kg bags or big bags – 1 to 1,5 m³).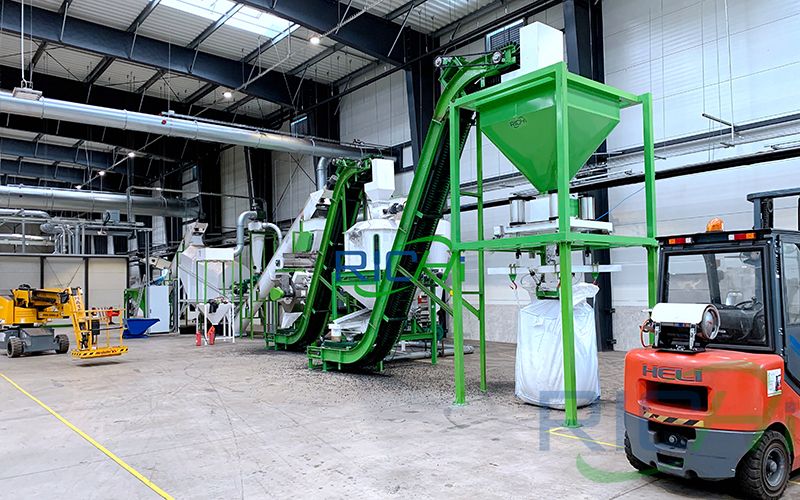 1-2t/h Alfalfa Pellet Line
The leading alfalfa producing countries are United States, European Union, Argentina, Russia, Canada and Australia, with 32 million hectares farmed between them. Alfalfa spans over 4 million hectares in Latin America – 4 million in Argentina, 170,000 in no Chile, 120,000 in Peru, 70,000 in Uruguay, and 40,000 hectares in Brazil. The leading alfalfa importing countries are Saudi Arabia, the UAE, China, Japan and South Korea, which account for 84% of global demand between them. The biggest exporters are United States, Spain, Canada, Italy and France. However, whether it is an exporting country or an importing country, a large-scale cattle feed alfalfa pellet plant has been built in the production of alfalfa pellets. The alfalfa pellets produced are not only used as cattle feed pellets, but also used as sheep feed pellets, horse feed pellets, livestock feed pellets and other feed pellets.
There are countless cattle feed pellet production line that we have built across the country, and alfalfa pellet production line projects have also been specially built. For example, the alfalfa pellet production line we built in Saudi Arabia is as follows:
Name: Alfalfa Feed Pellet Production Line
Country: Saudi Arabia
Capacity: 5-6T/H Cattle Feed+10T/H Chicken Feed
Date: March 30th,2018
Installation cycle: 60 Days
Feed Pellet Size: 1-2mm pellet
Workshop size(L*W*H):16m*8m*12m
Main Raw material:grass, alfalfa, corn, soybean meal
If you want to build a cattle feed pellet production line or alfalfa pellet production line project, please contact us. We have many projects across the country for your reference.
The above is the article for you: Turnkey Project of 1-2t/h Alfalfa Pellet Line for Cattle Farm. If you are interested in our products or project solutions, please contact us. We will give you the best product quality and the best price. Email: sales@cnrichi.cn
SEND INQUIRY
Here you can submit any questions and we will get back to you as soon as possible. We will not disclose the information you submit to anyone, please rest assured.
Copyright© 2021 Richi Machinery. All rights reserved. Site Map