Demand for Alfalfa in the Global Animal Feed Pellet Market
Date: 10/06/2020 08:50:45 From: feed-pellet-plant.com Clicks:
Kindly Reminder:
If you are interested in our products, Please get in contact with us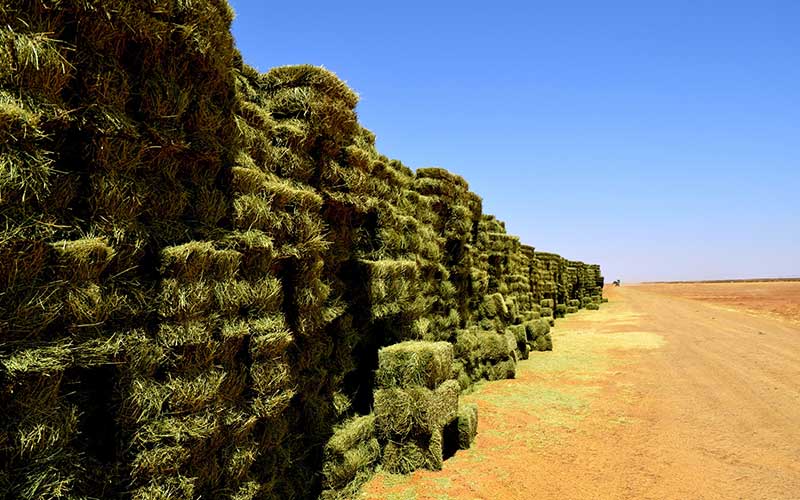 Alfalfa Market
Serious water scarcity issues in Asian and Middle Eastern countries and a global hike in demand for animal-based protein have buoyed global trade in alfalfa hay and grasses in the last 20 years. In 2016, global demand for alfalfa hay was 6 million tons, with trade amounting to USD 2.7 billion.
The leading alfalfa producing countries are United States, European Union, Argentina, Russia, Canada and Australia, with 32 million hectares farmed between them. Alfalfa spans over 4 million hectares in Latin America – 4 million in Argentina, 170,000 in no Chile, 120,000 in Peru, 70,000 in Uruguay, and 40,000 hectares in Brazil.
The leading alfalfa importing countries are Saudi Arabia, the UAE, China, Japan and South Korea, which account for 84% of global demand between them. The biggest exporters are United States, Spain, Canada, Italy and France.
The biggest alfalfa producing country in Latin America is Argentina, with some 4 million hectares farmed. In Brazil, alfalfa plantations span only 40,000 hectares, primarily in the southern states of Rio Grande do Sul and Paraná. This is not yet enough to meet domestic demand.
In southern Brazil, alfalfa gets sold mostly to horse and dairy cattle farms. High performance dairy cattle, which produces 20 to 40 kilograms of milk a day, have high nutritional requirements, and alfalfa is the perfect feed for this type of cattle.
Other uses for alfalfa are coming up in the cosmetics and pharmaceuticals agroindustry, including the use of alfalfa extracts, pills, and sprouts in making medicine and creams. The whole world uses alfalfa to those ends. Alfalfa extract stimulates cellular activity and helps rejuvenate the skin.
Feed Pellet Plant Alfalfa Feed Pellet Production Line
We know that alfalfa pellets are high-quality feed for dairy cows, beef cattle, sheep, pigs, poultry, rabbits, ruminants, and fish and shrimp feeds. But do you know how alfalfa pellets are produced? Generally, an alfalfa pellet factory will build one or several alfalfa pellet production lines. These production line equipment includes alfalfa pellet machine, alfalfa grass crusher, mixer, cooling system and screening system. As long as the correct formula is used, alfalfa can be used throughout the animal feed industry.
Production Process of Alfalfa Pellets
To process large scale alfalfa pellets, you may need a hay grass alfalfa pellet machine line, it is pretty similar with the wood pellet mill line, only we don't need the wood chipper. Because of the soft texture of the dried alfalfa, the hammer mill is enough to grind the raw materials. So the whole process can be divided to grinding, drying, pelletizing. It is much more easy than to process the wood pellets.
Characteristics of Alfalfa Pellets
Alfalfa pellets, which are small compressed alfalfa cylinders, offer numerous advantages. They are easier to transport, they keep better and they are easier to dose out, which prevents wastage. Alfalfa in pellet form is roughly 80% more valuable than a bundle of alfalfa hay. It is a processed product with high added value.
Alfalfa is considered the best of all forage plants, with 18% to 26% crude protein content, nitrogen-fixing capabilities, low seasonality, eight to ten harvests per year, and a potential for 20 to 25 tons of dry matter per hectare each year
It has really high content, and besides the quality of that protein is higher than that of grasses, and yield is also high, which is a very important variable. I would say that alfalfa is hard to beat when it comes to production of protein, and for feeding these herds, the cheapest protein is alfalfa, so massifying the use of alfalfa would be the way to go.
Richi Machinery Alfalfa Pellet Production Line Case
Name: Grass Alfalfa Pellet Production Line
Country: Saudi Arabia
Capacity: 5-6T/H & 10T/H
Date: March 30th,2018
Installation cycle: 60 Days
Pellet Size: 1-6mm pellet
The main raw materials of customers are grass, alfalfa, corn and soybean meal. We have customized solutions for customers' raw materials. This alfalfa pellet production line is used for production chicken feed,cattle feed and sheep feed.
Main Machines in this complete line
1. feed hammer mill*90KW;
2. feed mixer*3500kg/batch;
3. feed pellet machine*160kw;
4. cooling machine;
5. crumbler machine;
6. screen machine;
7. automatic packing machine and other equipment, It's one set full automatic contral system.
If you also want to make pellets with various raw materials such as alfalfa, hemp, hops, straw, etc., please contact us. Richi Machinery welcomes your inquiry!
Related News
5 tons of alfalfa cattle feed and 10 tons of chicken feed in Saudi Arabia
Palestine 4T/H Alfalfa feed pellet production line project
Why Does the Cattle Feed Pellet Plant Produce Alfalfa Pellets
Cattle Feed Pellet Production Line Is Inseparable From The Ring Die Alfalfa Pellet Machine
The above is the article for you: Demand for Alfalfa in the Global Animal Feed Pellet Market. If you are interested in our products or project solutions, please contact us. We will give you the best product quality and the best price. Email: sales@cnrichi.cn
SEND INQUIRY
Here you can submit any questions and we will get back to you as soon as possible. We will not disclose the information you submit to anyone, please rest assured.
Copyright© 2021 Richi Machinery. All rights reserved. Site Map