Cattle Feed Pellet Production Line Is Inseparable From The Ring Die Alfalfa Pellet Machine
Date: 09/25/2020 08:37:35 From: feed-pellet-plant.com Clicks:
Kindly Reminder:
If you are interested in our products, Please get in contact with us
Alfalfa is generally used in the production line of cattle feed pellets, because alfalfa has a high feeding value and is an ideal feed material for dairy and beef cattle. Because alfalfa pellets improve the quality of milk and meat production, they are widely used in cattle feed pellet production line.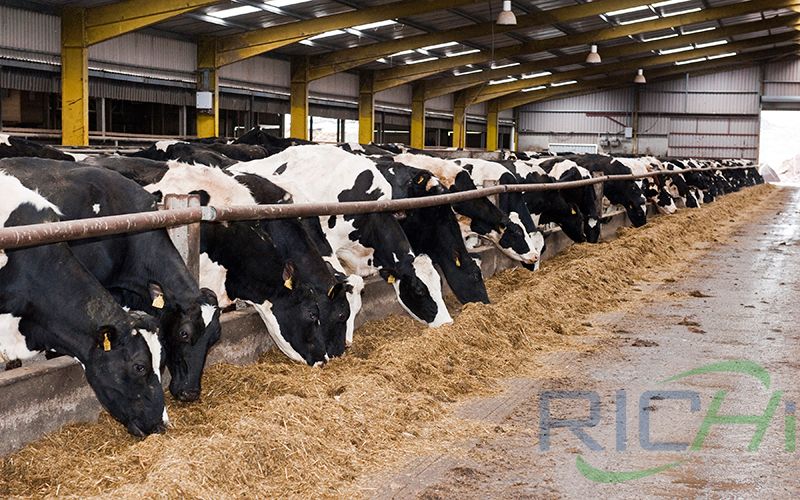 Cattle Feed Pellet Plant
Alfalfa pellet machine are generally divided into commercial alfalfa pellet machine and household alfalfa pellet machine. Household alfalfa pellet mill are small flat die pellet machine, which are generally used in households, with small output and convenient production. Commercial alfalfa pellet mill is what we call ring die pellet mill, with large output, stable performance and long life. Commercial alfalfa Pellet Machine are generally used in alfalfa pellet production lines.
Ring Die Alfalfa Pellet Machine
Model: MZLH
Capacity: 0.5 t/h - 10 t/h
Certification: CE & SGS & ISO
Final Pellet: 6-12mm
Cattle Feed Pellet Production Line Equipment
1. Alfalfa crusher
2. Mixer
3. Ring Die Alfalfa pellet machine
4. Cooling system
5. Screening system
6. Packaging system
7. Dust removal system
8. Transportation system
Alfalfa pellet mill, called lucerne pellet machine in South Africa, is used in many animal feed pellet production lines. Thanks to its high feeding value, alfalfa pellet is the perfect forage base for dairy cows, sheep and goats, horses, camels, rabbits and other livestock animals as it improves the production and quality milk and meat. It is successfuly employed in poultry feeding for layers and broilers.
Related News
5 tons of alfalfa cattle feed and 10 tons of chicken feed in Saudi Arabia
Palestine 4T/H Alfalfa feed pellet production line project
The above is the article for you: Cattle Feed Pellet Production Line Is Inseparable From The Ring Die Alfalfa Pellet Machine. If you are interested in our products or project solutions, please contact us. We will give you the best product quality and the best price. Email: enquiry@pellet-richi.com
Related Product
Production Line Equipment
SEND INQUIRY
Here you can submit any questions and we will get back to you as soon as possible. We will not disclose the information you submit to anyone, please rest assured.
Copyright© 2022 Richi Machinery. All rights reserved. Site Map