Richi Machinery 10t/h Cattle Feed Pellet Production Line
Date: 10/06/2020 08:55:45 From: feed-pellet-plant.com Clicks:
Kindly Reminder:
If you are interested in our products, Please get in contact with us
The 10t/h cattle feed pellet production line can provide 10 tons of feed pellets per hour. The raw materials are wheat, corn, soybean meal and other grains, and some grasses, such as grass, hemp, and straw, are added. The 10t/h cattle feed pellet production line belongs to the production equipment of large and medium-sized feed factories.
Project Name: Complete Cattle Feed Plant
Feed Plant Capacity: 10 tons feed pellets cane be made per hour, which is equal to 60,000 tons per year.
Application: It is suitable for processing livestock and poultry feedstuff into premium feed pellets. (chicken feed, duck feed, pig feed, cattle feed, etc)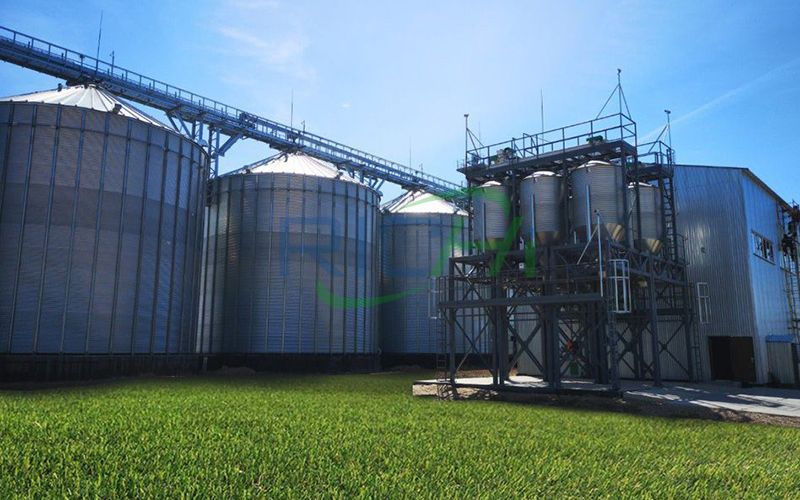 Richi Machinery 10t/h Cattle Feed Pellet Production Line
Setup Complete Cattle Feed Plant
Curshing Machine-The hammer mill is an important equipment for the raw material grinding process. The hammer mill can grind the raw materials ingredients into the required size. It is suitable for small or medium sized feedstuff pellet mill plant. While if you manage a large scale feedstuff pelletizing factory, the water drop hammer mill is an ideal choice.
Mixing Machine-Mixing is one of necessary processing in animal feed pellet line. Proper mixing will lead to increase diet uniformity and improve the feedstuff quality. We will provide two kinds of high efficiency feed mixers: twin shaft mixer for particle materials and screw belt mixer for powdered materials. Both of them are equipped with atomizing spraying system to add needed liquids which can improve feed pellets quality.
Pelletizing Machine-Feed pelletizing machine is the key feed equipment for the animal feed pellet line. The feed pelletizing machine is the ring die design which is broadly used to large capacity feed pellets production. If you have another questions about feed pellets production requirements like capacity or scale, please send e-mail to us for more support and guidance.
Cooler-Getting out of the feed pelletizing machine, the feed pellets with high temperature and large moist need cooling by counterflow cooler. The these feed pellets can be crushed, screened or packed. Through the cooler, the feed pellets are decreased the temperature and moisture for next processing.
Crumbler-Because different animal such as poultry, cattle and pig feed pellets are with different sizes. Some big feed pellets should be crushed into small particles. The feed pellet crumbler is the right equipment for the feed pellets crushing.
Rotary grading sieve is used to screen and grade the feed pellets. After this processing, you can get qualified feedstuff pellets without powder
Packing-In order to pack for storing, transporting and selling, automatic packing machine can weigh and pack the feedstuff pellets automatically with high accuracy.
Name: Forage Grass Pellet Production Line
Country: USA
Capacity: 10-12T/H
Date: March 15th,2020
Installation cycle: 40 Days
Feed Pellet Size: 1-6mm pellet
Workshop size(L*W*H):16m*7m*7.5m
Main Raw material:grass
The main equipment included in the 10-ton animal feed pellet production line purchased by American customers: feed hammer mill*90KW; feed mixer*1000kg/batch; feed pellet machine*22kw; cooling machine; crumbler machine; screen machine; automatic packing machine and other equipment, It's one set full automatic contral system.
If you are interested in our feed pellet production line equipment, welcome to contact us. We will send you the video and quotation as quickly as possible.
Related News
Cooperate with Uzbekistan customer for 6ton/hour cattle feed line
How to Make a Correct Cattle Feeding Plan
The Nutritional Value of Cattle Feed
How to Select the Best Quality Cattle Feed Pellet Machine Manufacturer
The above is the article for you: Richi Machinery 10t/h Cattle Feed Pellet Production Line. If you are interested in our products or project solutions, please contact us. We will give you the best product quality and the best price. Email: enquiry@pellet-richi.com
SEND INQUIRY
Here you can submit any questions and we will get back to you as soon as possible. We will not disclose the information you submit to anyone, please rest assured.
Copyright© 2022 Richi Machinery. All rights reserved. Site Map