2-3 t/h Cattle Feed Pellet Production Line and Poultry Feed Production Line
Date: 09/23/2020 08:54:42 From: feed-pellet-plant.com Clicks:
Kindly Reminder:
If you are interested in our products, Please get in contact with us
2-3t/h Cattle Feed Pellet Production Line and Poultry Feed Production Line is a project, not just limited to a cattle feed pellet machine or chicken feed pellet machine. When our budget is large enough, we can automate mechanical equipment as much as possible. We know that ruminant feed pellet machine are needed to produce ruminant feed, and poultry feed pellet machine are needed to produce poultry feed. Yes, this is limited to small feed pellets. If it is to produce large-volume feed pellets, a feed pellet production line is needed.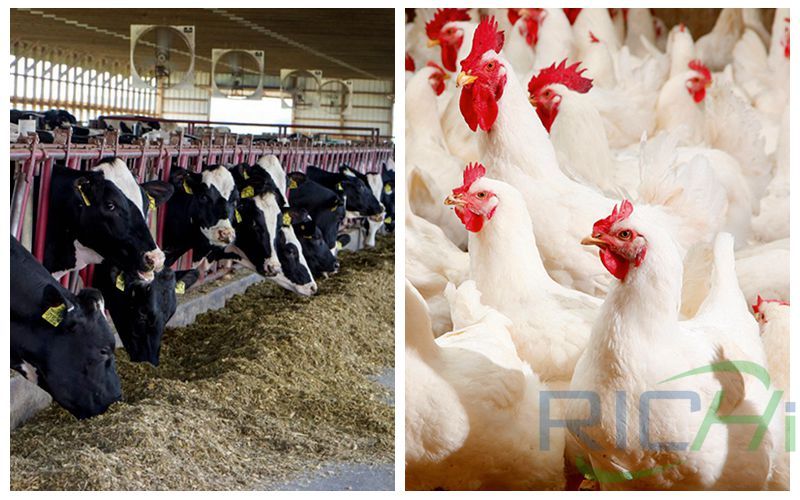 Cattle Feed Plant and Chicken Feed Plant
2-3 t/h Cattle Feed Line And Poultry Feed Line
Ruminant animals generally include cattle, sheep, camels, etc., and poultry generally include chickens, ducks, geese and birds. The configuration of the 2-3T/H cattle feed line and the poultry feed line are the same, but the feed formula selected during production is different.The raw materials for livestock feed pellets include corn, wheat, soybeans, nutshells and other biodegradable materials such as grass, straw, and bagasse (sugarcane dregs). The feed pellets require an additional component of moisture, which is achieved by introducing steam or molasses to the mixture. Given that cattle, buffalos, cows and bulls all have diverse nutrition requirements, feed composition will contrast based on the type of livestock animal. The only constant is that the feed must be rich in energy, protein, and fiber.
Cattle & Poultry Feed Production Process
Making cattle & Poultry feed pellets require the raw fodder materials first be conditioned, then converted into powdered form and fused to create a mixture. A separate grinder and mixer can be used to accomplish this, with the subsequent mixture served into the feed pellet machine for the molding process to commence. The pellet machine exposes the powder to a variety of elements such as high temperature and pressure as well as steam, resulting in the compression of the powder into pellets. The processed mix is at that point passed through the holes of the die, being cut into the desired length in this extrusion process. An adjustable knife is ideal for this function, with the pellets subsequently put through a cooling process. Once parched, the pellets can be fed to the livestock animals.
If your team is going to build a ruminant feed pellet production line, the advantage of choosing us is that RICHi will help you:
1. Determine the scale of ruminant feed mill.
2. Determine the feed process and recommend ruminant feed machine.
3. Control mode selection.
4. Ruminant feed manufacturing plant structure selection.
5. Planning the general drawing of ruminant feed mill plant site.
6. We devote ourselves to undertaking all ruminant feed production line 2-30T/H.
Related Cases
Saudi Arabia 5-6T/H Cattle Feed+10T/H Chicken Feed Pellet Production Line
South Africa 10T/H Cattle Feed Pellet Line
Uzbekistan 10-15T/H Chicken Feed Pellet Line
The above is the article for you: 2-3 t/h Cattle Feed Pellet Production Line and Poultry Feed Production Line. If you are interested in our products or project solutions, please contact us. We will give you the best product quality and the best price. Email: enquiry@pellet-richi.com
SEND INQUIRY
Here you can submit any questions and we will get back to you as soon as possible. We will not disclose the information you submit to anyone, please rest assured.
Copyright© 2022 Richi Machinery. All rights reserved. Site Map