Uzbekistan 3-5 T/h Medium Scale Automatic Poultry Feed Line Manufacturer Project
Date: 11/25/2021 08:43:59 From: feed-pellet-plant.com Clicks:
Kindly Reminder:
If you are interested in our products, Please get in contact with us
This 3-5 T/h Medium Scale Automatic Poultry Feed Line Manufacturer Project is of great significance to Richi Machinery, because it is the first animal feed plant project established by RICHI in Uzbekistan and was signed in October 2015. In 2015, based on what kind of market prospects will customers go to China to purchase feed processing equipment and prepare to invest in the feed processing industry? In 2015, the number of chickens in Uzbekistan reached 60 million, and its domestic poultry supply reached 80% and eggs reached 100%. To further develop the poultry industry and increase production, about 530 projects are planned to be implemented in 2016. Financial support for the new farm exceeds 62.4 million US dollars.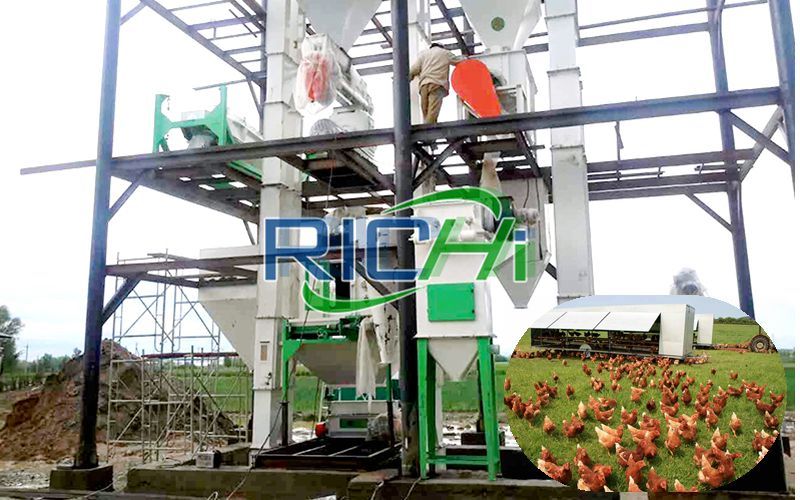 Uzbekistan 3-5 T/h Medium Scale Automatic Poultry Feed Line Manufacturer Project
It can be seen that at that time, Uzbekistan will vigorously develop the poultry breeding industry. To date, Uzbekistan has more than 40 large poultry factories and farms, each of which contains 50,000 to 1 million poultry. Leading companies in the industry are located in Tashkent, Samarkand, and Andijan, and jointly supply 50% of Uzbekistan's poultry products. And this customer comes from Samarkand, a key area of poultry farming. Because there are many poultry farms in the area, the customer's decision to invest in the poultry chicken feed mill factory business is very wise.
Although it is the first time for the customer to invest in the establishment of a chicken feed mill, the customer's needs have always been very clear. They want to buy a 3-5 ton per hour capacity chicken feed production factory to produce both broiler feed and layer feed. The customer is working with very experienced technicians. The visitors who visited, based on the preliminary negotiation, after the customer inspected our factory and feed mill project site in China, the customer directly signed the contract with RICHI.
This project covers an area of 9*6*13m, and the main feed processing equipment includes: Corn Grain Grinder Machine For Chicken Feed*37KW, Mixing Machine For Chicken Feed*500kg/batch, China Factory Price Ring Die 3-4 t/h feed pellet machine*37KW, Cooling Machine*SKLH14*14, Pellet Crumbler*SSLG15*80, Vibrating Screening Machine ,Packing Machine,500KG/H Electric Heating Boiler,etc.
The cooperation on this 3-5tph chicken poultry feed pellet production line project is very smooth, because the customer is very cooperative with our work. The customer's chicken feed pellet making plant was built after the equipment was shipped to Uzbekistan, and the installation engineers we dispatched also conducted on-site guidance and training throughout the process. In 2019, the team of RICHI engineers paid a return visit to this project. According to customer feedback, their production conditions are very good. Moreover, according to the feedback from the sales staff of RICHI, the customer of this project is now consulting about the expansion of production and is looking forward to our next cooperation.
It is worth mentioning that during the project design stage, due to local breeding in Uzbekistan and chicken eating habits, the customer put forward requirements for the hardness of pellet feed, because our initial design was based on the most common chicken feed pellet compression ratio , But the hardness is somewhat high for customers, so the compression ratio is changed according to customer requirements.
The above is the article for you: Uzbekistan 3-5 T/h Medium Scale Automatic Poultry Feed Line Manufacturer Project. If you are interested in our products or project solutions, please contact us. We will give you the best product quality and the best price. Email: enquiry@pellet-richi.com
SEND INQUIRY
Here you can submit any questions and we will get back to you as soon as possible. We will not disclose the information you submit to anyone, please rest assured.
Copyright© 2022 Richi Machinery. All rights reserved. Site Map