Uzbekistan Tashkent 1-2 T/Hh Cattle and 1 T/H Fish Feed Production Plant Project
Date: 01/18/2021 10:30:27 From: feed-pellet-plant.com Clicks:
Kindly Reminder:
If you are interested in our products, Please get in contact with us
This Uzbekistan Tashkent 1-2 T/H cattle and 1 ton fish feed production plant project, which was undertaken by RICHI, was officially completed and put into production in 2019.This project is located in Tashkent, Uzbekistan, mainly engaged in livestock and aquatic feed. It has a certain market competitiveness for local area in Uzbekistan with high quality products and services.With comprehensive advantages in machinery manufacturing, technological innovation and feed formula design, RICHI tailored 1-2 T/H cattle and 1 ton fish feed pellet production line plant project for this customer.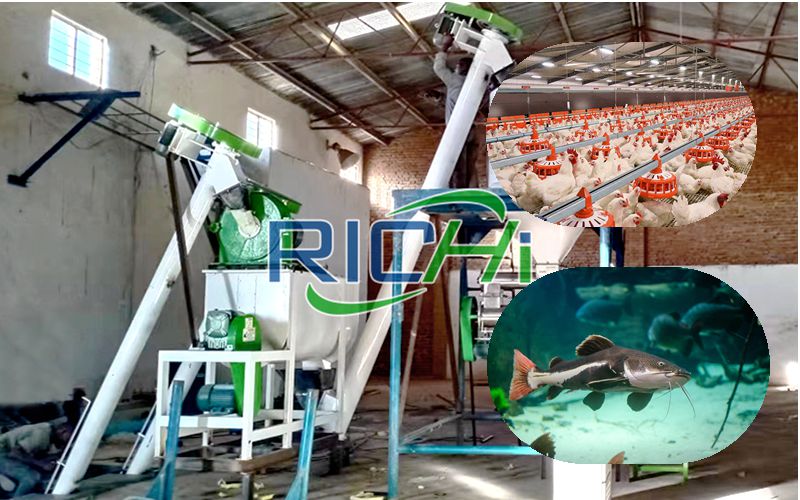 Uzbekistan Tashkent 1-2 T/h Cattle and 1 Ton Fish Feed Production Plant Project
The client of this project is a person who knows the feed industry and feed processing technology very well. As a very experienced feed factory investor, the customer did not visit on-site, but at the beginning of the cooperation, the customer conducted a comprehensive and strict investigation on RICHI in terms of corporate background, production strength, production qualifications, etc., and then entered the formal Negotiate. We are very pleased that our customers are very cautious. In our opinion, this is also very necessary. This will lay a foundation of trust for future smooth cooperation. As a professional feed production line manufacturer from China, we are also very confident that we can win the trust of customers with strength.
Generally speaking, cattle feed pellet mill are used to process cattle feed, but this customer's cattle feed pellet production line process is very special, using an feed extruder to process cattle feed, and the pellet size of the extruded cattle feed is very large. In fact, looking at the world at present, taking China as an example, many chicken feed mills have begun to use extruders to make chicken feed because of the higher maturity, but the output is relatively low. But in terms of equipment and process selection, customer needs are the first.
The equipment installation of this project takes 2 months in total, covers an area of ​​15*9.5*8 meters, and consumes 150kw/hour. The main equipment includes 37kw SFSP fine-grinding hammer mill, 500kg/batch animal feed mixer, 90kw feed extruder machine, feed dyer,SKLN11*11 pellet cooler, vibrating shifter, spraying equipment,automatic packing machine, 1t/h steam boiler, etc. This turnkey feed processing line requires a total of 6 workers to operate.
As the partner of this project for the latest animal feed production line, RICHI has won the high recognition with advanced equipment, high quality engineering and excellent after-sales service, opening a new chapter of strategic cooperation between the two sides.
The above is the article for you: Uzbekistan Tashkent 1-2 T/Hh Cattle and 1 T/H Fish Feed Production Plant Project. If you are interested in our products or project solutions, please contact us. We will give you the best product quality and the best price. Email: enquiry@pellet-richi.com
SEND INQUIRY
Here you can submit any questions and we will get back to you as soon as possible. We will not disclose the information you submit to anyone, please rest assured.
Copyright© 2022 Richi Machinery. All rights reserved. Site Map