How To Build Cattle Feed Pellet Production Line To Manufacture Cattle Feed Pellets
Date: 06/30/2020 08:36:23 From: feed-pellet-plant.com Clicks:
Kindly Reminder:
If you are interested in our products, Please get in contact with us
Cattle feed pellets are the same as sheep feed pellets, chicken feed pellets, fish feed pellets, etc., all belong to animal feed pellets. Cattle feed pellets are not only nutritious, but also have a long storage time, which is suitable for the breeding and consumption of beef cattle and dairy cows. How to build a cattle feed pellet production line to manufacture cattle feed pellets depends mainly on the output of cattle feed pellets produced per hour.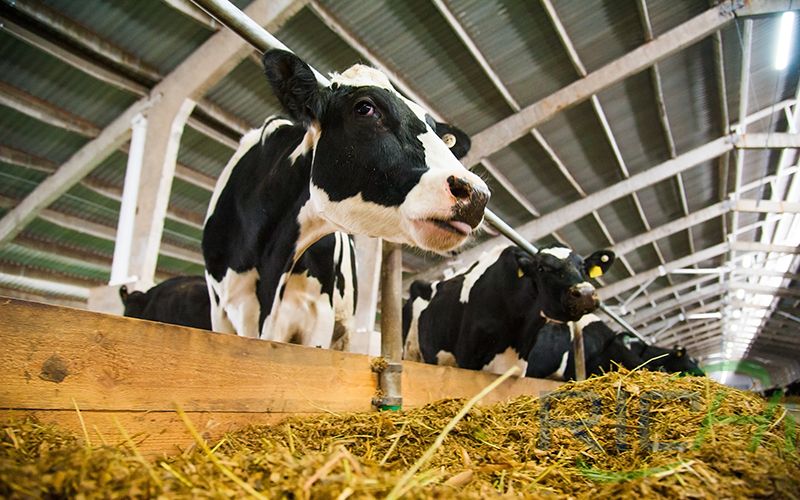 Cattle factory cattle eat feed
Raw Material For Cattle Feed Pellets
Which raw materials are suitable for suppressing cattle feed pellets?
1. Various grains: corn, soybean, wheat, soybean meal, wheat bran and other grains;
2. Grasses: alfalfa grass, peanut seedlings, corn straw, grass, hay, wheat straw, etc.
Production Process Of Cattle Feed Pellets
As stated earlier the production of cattle feed pellet with the key operations in the production process being: preparation of the raw materials, crushing, mixing, and pelleting and pellets packaging.
First, the raw ingredients are stored in silos where they are readied for further processing. Then crushed by hammer mill into powder. The crushed mixture is separated using a sieve and subsequently stored in the dividing tanks based on the type of raw materials.
The next step is mixing the raw materials, and this is done using a feed mixer. This process is crucial as fatty ingredients are supplemented to the ingredients for the purpose of improving the overall nutritional value of the product.
The assorted feed which at this point after crushed is introduced to a feed pellet mill which forms the pellets.
The last thing to do is to package the finished cattle feed pellets.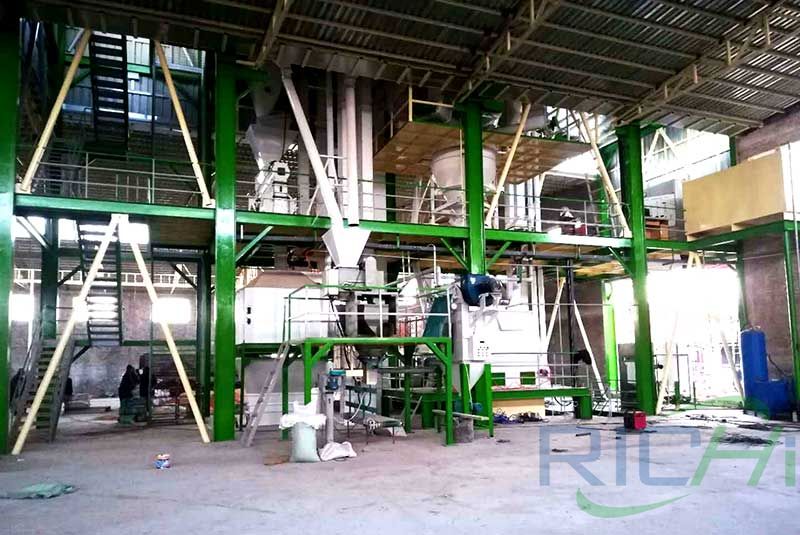 Process of cattle feed pellet production line
Cattle Feed Pellet Production Line Equipment
Machinery and equipment required in the cattle feed pellet production line are as following.
1. Tank( or other containers ) for raw and auxiliary materials storage
2. Feed hammer mill(feed pellet grinder) for grinding the raw materials to feed powder.
3. Feed pellet blender( feed pellet mixing machine) used to mixing powdered materials to improve the uniformity of the ingredients.
4. Feed pellet mill(feed pelletizer) is the main equipment for making the cattle feed pellets. For cattle feed mill, we supply flat die feed pellet mill design better for home use and ring die feed pellet mill design for cattle feed factory. If you plan to buy a cattle feed pellet mill, you can tell us your capacity requirement, then our salesman will give you a good recommendation.
6. Feed pellet cooler is used to cool the hot and moisture feed pellets(if your production capacity per day is not so much, you will not need this pellet cooler, just dry the pellets in the sun is OK.)
7. Feed pellets screening and grading machine is used to remove the fines and grade the pellets, which is the preparation for packaging.
8. Feed pellet weighing and packaging machine is used to weigh and pack the pellets in the uniformity(If making cattle feed pellets for your own farm, you can choose to store the pellets in a dry container instead of buying a packing machine, while for an automatic feed pellet plant, the weight and packing machine is necessary.)
9. Other auxiliary machines( conveyor, lifter, etc. Usually used in an automatic cattle feed pellet line)
Advantages Of Cattle Feed Pellets
Good quality cattle feed pellets have several benefits: reduced waste, less segregation in the feed, improved palatability and shorter eating periods. Also animal performance and feed efficiency can benefit from pelleting the feed. There are many reasons used to justify the pelleting process. These include:
Improved cattle performance
Decreased feed wastage
Reduced selective feeding
Improved bulk density
Better material handling characteristics
Destruction of deleterious organisms
Customer expectations
Feed dust/disease control
Conditioning temperature is a strong factor for improving the quality of pellets comprised primarily of grain, especially corn/soy.
Related Case
3-4T/H Ruminant Animal Feed Pellet Line Export To Hong Kong,China
3-5T/H Ruminant Animal Feed Pellet Line Export To Indonesia
5-6T/H Cattle Feed+10T/H Chicken Feed Pellet Production Line Export To Saudi Arabia
10T/H Ruminant Feed Pellet Line Export To South Africa
The above is the article for you: How To Build Cattle Feed Pellet Production Line To Manufacture Cattle Feed Pellets. If you are interested in our products or project solutions, please contact us. We will give you the best product quality and the best price. Email: enquiry@pellet-richi.com
SEND INQUIRY
Here you can submit any questions and we will get back to you as soon as possible. We will not disclose the information you submit to anyone, please rest assured.
Copyright© 2022 Richi Machinery. All rights reserved. Site Map