Crusher And Pellet Mill Is Inseparable For The Production Of Hemp Grass Pellets
Date: 09/11/2020 08:35:11 From: feed-pellet-plant.com Clicks:
Kindly Reminder:
If you are interested in our products, Please get in contact with us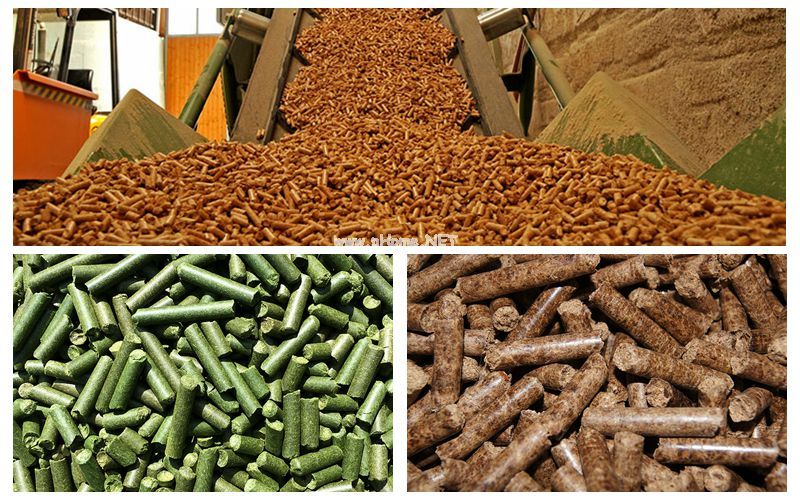 Crusher And Pellet Mill Is Inseparable For The Production Of Hemp Grass Pellets
Hemp, or industrial hemp, is a variety of the Cannabis sativa plant species that is grown specifically for the industrial uses of its derived products. It is one of the fastest growing plants and was one of the first plants to be spun into usable fiber 50,000 years ago. Now one of the uses of hemp, hay and grass is as cattle feed, sheep feed, camel feed and pig feed. Crusher and pellet mill is inseparable for the production of hemp grass pellets.
Production Process Of Hemp Hay Grass Pellets
Phase 'A': Crushing
The process of crushing is necessary because the dimension of the raw material has to be reduced. The raw material could be in two parts: round or rectangular bales. The cut product can be transported with normal transportation systems. Our commonly used crusher is a special crusher: straw/alfalfa/husk/grass crusher, which is equipped with forced feeding device, is mainly suitable for crushing lighter materials such as hemp, hay, straw, husk and alfalfa, etc.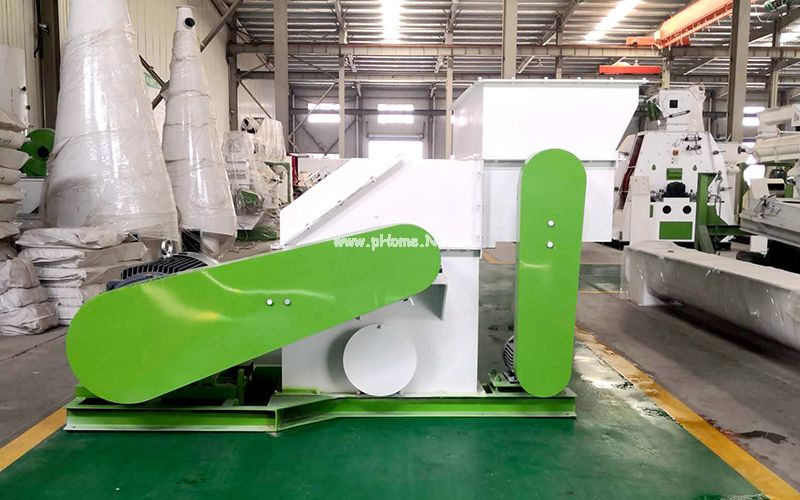 Hemp Hay Grass Crusher
Hemp Hay Grass Crusher Features
1.Special design for crushing grass, straw, etc light materials.
2.With force feeding part, and bigger crushing room.
3.Spindle speed: 2970r/min; Siemens motor, SKF bearings
4.The series is fine degree type hammer mill,mesh aperture 2.0-6.0mm is better;
5.Hammer's face hard surfacing materials,extended service life;
6.Rotor motor and the mill installed in the same heavy-duty base,using the pin coupling Direct transmission,rotor balancing efficacy through,the work can be positive and negative.
Hemp Hay Grass Crusher Parameters
| | | | | | |
| --- | --- | --- | --- | --- | --- |
| Model | 9FB56*40 | 9FB56*60 | 9FB56*80 | 9FB56*100 | 9FB56*120 |
| Power | 22kw | 30/37kw | 37kw | 55kw | 93kw |
| Capacity | 0.3-0.8t/h | 0.5-1.2t/h | 0.6-1.5t/h | 1-2t/h | 1.5-3t/h |
Phase 'B': Drying
The humidity percentage of the wood must be reduced from approx 80-90% to not more than 12-13%. The machine could be a rotary drum drier or a belt drier and has a burner that can be alimented with oil, gasoline, gas or wood.
Phase 'C': Refining
After drying a refiner mill, complete with aspiration unit, reduces the dimensions of the product and prepares it for pelleting.
The product is also cleared from any ferrous part.
Phase 'D': Mixing
A mixing silo make the product homogeneous and in this silo the product can be stocked.
Phase 'E': Pelleting
The material is entering in the pellet mill passing through the conditioner. Because material such as hemp, hay, grass, and straw are relatively light, a pellet machine with a compulsory feeder is needed, which is what we call hemp pellet machine and grass/alfalfa pellet machine, which belong to the same equipment.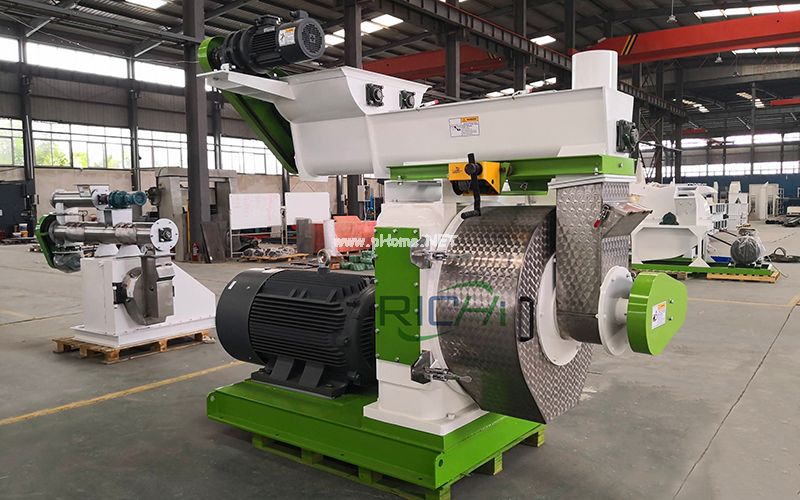 Hemp Hay Grass Pellet Mill
Hemp Hay Grass ellet Mill Parameter
| | | | | | | |
| --- | --- | --- | --- | --- | --- | --- |
| Model | MZLH320 | MZLH350 | MZLH420 | MZLH520 | MZLH768 | MZLH858 |
| Anti-caking Feeder Power | 1.5KW | 1.5KW | 1.5KW | 2.2KW | 3KW | 3KW |
| Forced Feeder Power | 0.55KW | 0.55KW | 0.55KW | 0.75KW | 1KW | 1KW |
| Capacity | 600-800kg/h | 800-1000kg/h | 1.5-2t/h | 3-4 t/h | 5-7 t/h | 8-10t/h |
| Pellet Machine Power | 37kw | 55kw | 90kw | 110/132kw | 250/280kw | 280kw |
| Final Pellet | 6-12mm | 6-12mm | 6-12mm | 6-12mm | 6-12mm | 6-12mm |
Phase 'F': Cooling
After pelleting, the product is very hot, therefore it's necessary to cool the product at approximately +5°c in respect to the room temperature, in order give it the right hardness and the best consistence to store and handle it.
The machine is a counter current cooler complete with air aspiration line the recovery of dust.
Phase 'G': Sieving
In this phase the product is cleaned from the dust, which is brought back into the production cycle.
Phase 'H': Packaging
The pelleted product is conveyed to the silo for storage before delivery. It can be delivered in bulk, loaded on trucks or packed in sacks or big-bag. The machines for packaging could be manual, semi-automatic or automatic, based on the requested production.
Related News
US group to seek approval of hemp seed meal for chickens
Why choose RICHI machinery Forage Grass Pellet Machine
The above is the article for you: Crusher And Pellet Mill Is Inseparable For The Production Of Hemp Grass Pellets. If you are interested in our products or project solutions, please contact us. We will give you the best product quality and the best price. Email: enquiry@pellet-richi.com
SEND INQUIRY
Here you can submit any questions and we will get back to you as soon as possible. We will not disclose the information you submit to anyone, please rest assured.
Copyright© 2022 Richi Machinery. All rights reserved. Site Map