1-2 T/h Small Feed Pellet Line Price For Poultry & Livestock
Date: 07/08/2020 08:40:18 From: feed-pellet-plant.com Clicks:
Kindly Reminder:
If you are interested in our products, Please get in contact with us
1-2 T/h Small Feed Pellet Line is a small production line, generally mainly small poultry feed mill, pig feed factory, cattle feed mill, sheep feed factory, rabbit feed plant, etc. The price of 1-2 tons/hour poultry and livestock small feed pellet production line is also in the range of US$20 million to US$20 million. It is mainly decided according to the manufacturer and production line configuration. There are not many manufacturers, and the prices of large brand manufacturers are relatively high. If the budget is limited, you can choose feed pellet equipment manufacturers with high cost performance. According to the different configuration, there are low-distribution production line, standard-distribution production line and high-distribution production line. The price difference depends on the product model selected.
What are the main equipment of 1-2 tons/hour feed pellet production line
1. Crushing mixer
The production line is 1-2 tons / hour, the tonnage is too small. The SFSP Hammer Mill produced by Richi Machinery cannot be used because this hammer mill can only be used when the output is above 3t/h.The most suitable can choose small feed grain crusher and mixer. Can choose model R1000-R2000. This feed crushing and mixing machine is mainly used to crushing and mixing kinds of raw materials to produce poultry feed, livestock feed and animal feed. This 2 in 1 poultry feed crushing and mixing machine is vertical type which saves your room and saves your price cost and absorb the raw materials by itself,completely automatically feeding. This crushing and mixing machine is much cheaper than SFSP Hammer Mill.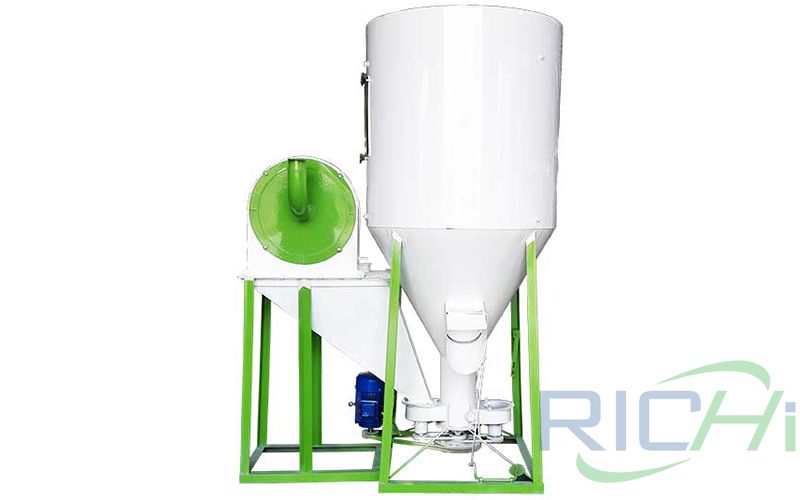 Crushing mixer
Features
1. can be mixed in the state of weightlessness, no restrictions, you can add all kinds of liquid.
2. grinding work time is short, short mixing time, high mixing evenness, Large exhaust air volume, self-priming, Roughly 1/3 of save power than similar products.
3. no leakage, quickly on the material processed, no residue.
4. charging system is good, which can be equipped with compressed air blowing system.
5. suitable for livestock and poultry industry, aquatic feed additives, chemical, pharmaceutical and other industries.
The machine consists of a feeding machine, grinder, mixer.
2、Feed Pellet Machine
The feed pellet machine model we need according to the output is SZLH-250, SZLH250 Feed Pellet Machine is a horizontal ring die pellet machine, mainly suitable for 1-2 ton animal feed pellet production line.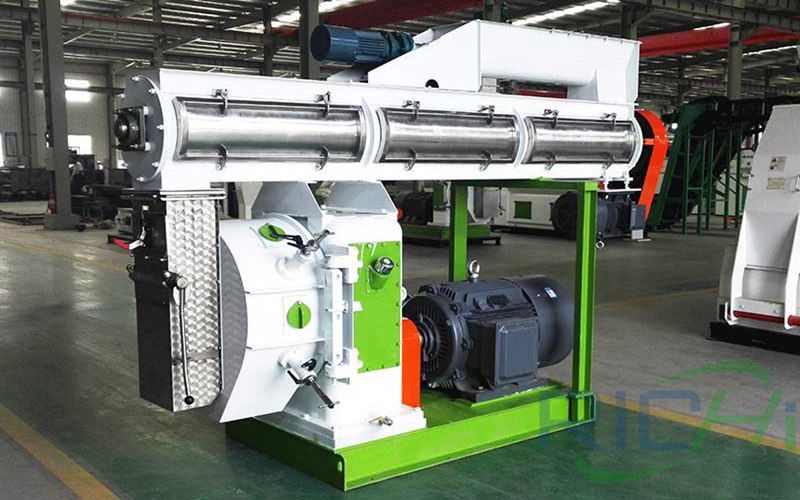 feed pellet machine
Features
1) The process flow is continuous and reasonable, and each machine has good performance.
2) The unit has a compact structure, small occupation area, low energy consumption,and high efficiency.
3) Simple structure, suitable for small farmers in rural areas to use.
4) Easy maintenance, safe and reliable, less investment and quick effect.
5) Flexible production : Wide product rangeΦ1.5mm-Φ12mm pellets,conditioner with molasses and steam adding function.
6) User-friendly operation : Hydraulic system for ring die change and roller adjustment(optional),quick ad precise operation;auto-lubrication system(optional)and die & roller lifting device,save labor;on-site touch screen control.
Cooler model SKLN11 * 11 is the most suitable. SKLN Series Counterflow Cooler widely applied in feed processing industry for cooling of all kinds of pellet materials.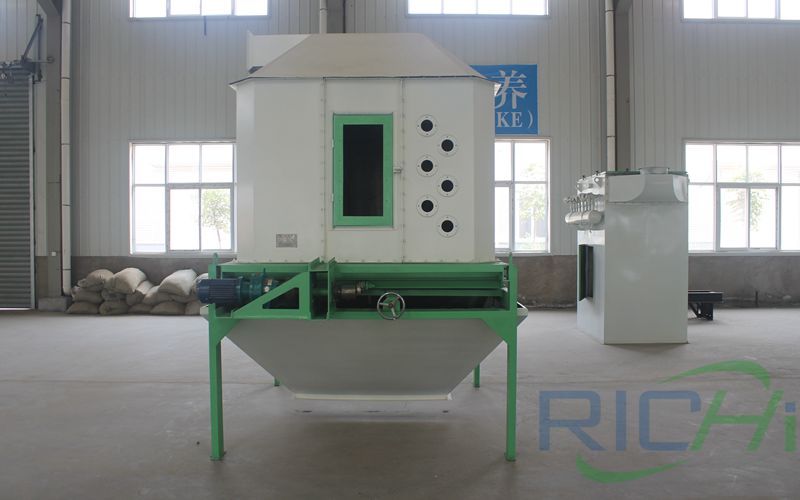 Counterflow Cooler
Features
1) Adopt counter-flow cooling principle,pellet cooled fully and equally, smooth discharge, adjustable discharge flow and speed.
2) The equipment has access door in the front, the side and top cover have viewing windows for easy observation and inspection.
3) Pressure reduced board at discharging, improve the work load, reduce distortion, extend the life of the part.
4) The octagonal section of the cooling bin removes the cooling dead angle and is conducive to the full cooling of the material ,The pellet temperature after cooling is not higher room temperature +3-5 degree.
5) Air-enclosed feeder is adopted for feeding so as to avoid the air crossing at the feeding inlet, resulting in good cooling effect.
6) With special side valve discharging mechanism, balanced and reliable operation of side valve discharging mechanism,discharging feed fluently.
Henan Richi Machinery DCS automatic packing machine used in feed mill plant, has the characteristics of reasonable structure, beautiful appearance, stable operation, energy saving, convenient operation and accurate weighing.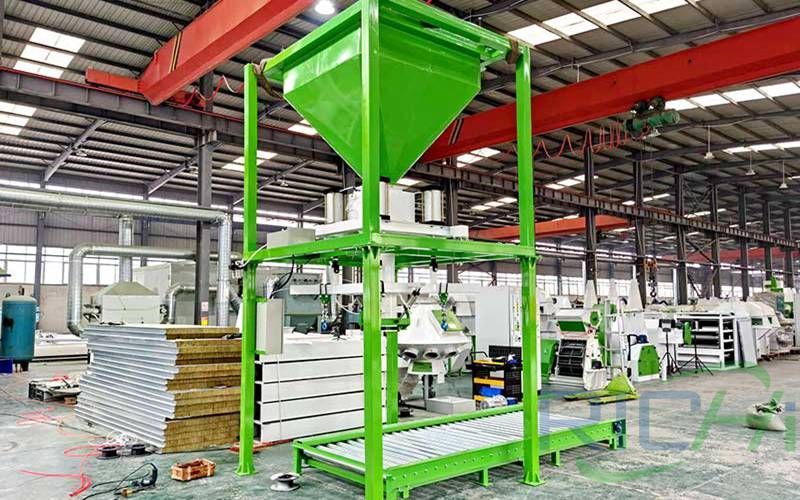 DCS automatic packing machine
Features
1) Microprocessor controlled rationed packing scales,compact structure, small footprint.
2) This product is widely used in industries such as grain, feed and chemicals.
3) Intelligent weighing instrument is adopted to ensure high precision and stable performance.
4) Functions of automatic error correction, alarm for out of tolerance and zero tracing are available.
5) Display for gross weight, net weight and count of bags are available,anti-vibration design, stable and precise packing..
6) Be able to store various formulas, simple operation and high packing rate.
1-2 T/h feed production line host parameter configuration
Technical Parameters of main equipments for feed mill plant
Item
Name
Type
Power (KW)
Part 1.Raw material receiving& crushing system & mixing system
1-01
Small Crusher and Mixer
R1000-R2000
7.5-15kw
Part 2.pelleting system
2-01
Feed pellet machine(matched with site control cabinet)
SZLH250
22
Part 3 . cooling system
3-01
Counter-flow cooler
SKLN11×11
0.75
3-02
Vibrating screener
SFJZ60*1d
0.4
Part 4. packing system
4-01
Packing scale
DCS50
2.2
4-02
Boiler
0.3t/h
The above is the article for you: 1-2 T/h Small Feed Pellet Line Price For Poultry & Livestock. If you are interested in our products or project solutions, please contact us. We will give you the best product quality and the best price. Email: sales@cnrichi.cn
SEND INQUIRY
Here you can submit any questions and we will get back to you as soon as possible. We will not disclose the information you submit to anyone, please rest assured.
Copyright© 2021 Richi Machinery. All rights reserved. Site Map